plus
BURNS GUITARS SINCE 1992
HISTORIES OF LEEDS GRAMMAR SCHOOL
DAME CLARA BUTT - THE COMPLETE DISCOGRAPHY
WARHOL - The Musical
BOB DYLAN WEBRING
FENDER COLLECTORS' WEBRING
GUITAR RESEARCH RING
INSTRUMENTAL ROCK MUSIC WEBRING


Trevor Midgley


Create your badge
Use "quote marks" when searching for phrases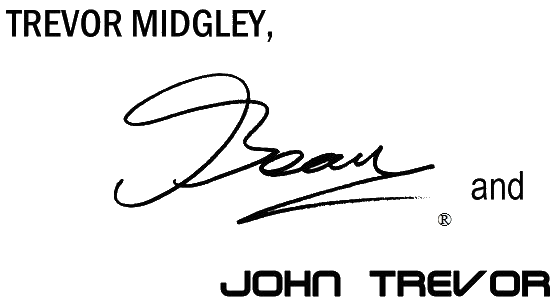 WEB SITE

Hi there!
If you've visited before, welcome back; if this is your first time, where have you been?
It's maybe a little surprising for first-timers checking out Beau, John Trevor, Simfonica or plain Trevor Midgley to find a choice of identities. Don't worry! Just dive in, start searching or clicking and take it from there. Oh, and be sure to visit again soon. Things have a habit of changing!
If you want to get upclose and personal (or just want to know about site updates), simply flex those fingers and e-mail me.
I always love to hear from you!
Meantime, these are the places to be!
... so who is Trevor Midgley?: - the truth, the whole truth .. PLUS "The Midgley Family Songs" - now available in streaming RealAudio, and a feast for musical genealogists everywhere! Yes, sir..
The Raiders: - who, why, when, and how come? .. featuring The Raiders' repertoire, "The Tarm Diaries", four photo galleries, and the full story behind The Raiders' remarkable 2001 reunion gig! Wow!
Beau: - what's in a name? .. PLUS videos, photos, recorded song info., the full, long lost "1917 Revolution - single outtake" in RealAudio, and Mark Knopfler's 1969 article "Beau - A Name To Remember".
John Trevor: - John T. was John Peel's idea, not mine ..
Simfonica: - the late-comer to the party!
"Dylan: Contraband": - the invaluable reference book on Bob Dylan's bootleg CDs .. PLUS "Desktop Themes", "Bob Dylan's Gigging Bands", the "BOOTLEG FORUM", and much more!
John Peel's "Dandelion" label: - artist links, PLUS the "DANDELION RECORDS FORUM". Ask your questions, have your say...
Finally, a short story: - this is "The Foghorn". Read before bedtime, and only then if you can suspend belief...