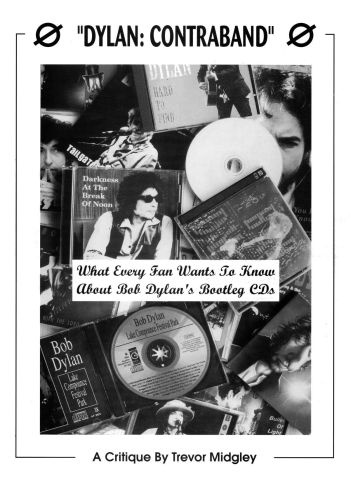 Use "quote marks" when searching for phrases
*** NOW AVAILABLE DIGITALLY ***
The Ø "DYLAN: CONTRABAND" Ø book
is now available as a fully searchable pdf file
IDEAL FOR DISPLAY ON PC OR MAC AND MOST E-READERS
Payment through PayPal only -
send £3-00 (GBP) plus £1-00 UK shipping for the CD to cjtmidgley@gmail.com,
or £2-00 for fast delivery of
"DYLAN: CONTRABAND" to your inbox
Any questions, please email me

Ø "DYLAN: CONTRABAND" Ø
What Every Fan Wants To Know About Bob Dylan's Bootleg CDs
A Critique By Trevor Midgley
• IS A FAN'S-EYE VIEW OF OVER 200 OF BOB'S MOST COMMONLY AVAILABLE BOOTLEG CD TITLES
• CONFIRMS PLAYING TIME, SOURCE, TRACK LISTINGS ETC., AND GIVES FRANK ASSESSMENTS OF SOUND QUALITY, PRESENTATION, AND VALUE FOR MONEY.
• CONTAINS OVER 400 FULLY INDEXED PAGES
• IS TOTALLY INDEPENDENT - OWES NO ALLEGIANCE WHATEVER TO THE BOOTLEG INDUSTRY
• WILL SAVE YOU MONEY!

FIRST PUBLISHED in 1998, "DYLAN: CONTRABAND" was written for the Average Fan. In the two years it took to write, NO-ONE SUBMITTED A SINGLE CD FOR REVIEW. I got off my bottom and travelled the country, north and south, to see what I (and by implication, anyone else) could find. Every disc was loaned either by small independent retailers or by market traders, and what went into the book were the two-hundred-plus most available discs that I came across during my travels. (Two hundred seemed a sensible cut-off point to avoid "DYLAN: CONTRABAND" becoming an overweight and unusable tome; that said, I actually ended up with two hundred and eight.)


EACH REVIEW contains source and track details (the correct info., not what appears on the box) together with full and frank assessments of the CD's sound quality, presentation, and value for money.

I had many chances to review exotic rarities from private collections, but in all cases I declined. Why? Because it ran against the spirit of "DYLAN: CONTRABAND", in that the Average Fan wouldn't come across them in a month of Sundays.


"DYLAN: CONTRABAND" is the book I was looking for but never found when I first got into bootlegs. It's a reference volume that fits neatly into a backpack, and gives a fans-eye-view of the CDs most folk are likely to encounter.

In short, if you're a Dylan fan - and you must be if you've read this far - this is one book you shouldn't miss. It can save you a lot of hard-earned cash!


THERE'S LOTS TO CHECK OUT on the D/C site. Start off with a visit to The Bootleg Forum. This is where you can tell the world your bootleg fantasies, and hopefully have your questions answered. Next stop must be Bob Dylan Desktop Themes (get your own back - wake your computer up with "Mixed Up Confusion"!).

Wanna know the story behind "DYLAN: CONTRABAND"? Just click on "The Echo Of My Footsteps ...". If it's Bob's relationship with his electric guitars that turns you on, you'll be fascinated by "May Your Songs Always Be Strung".

Or maybe you're interested in Bob Dylan's Gigging Bands? Oh, and do try the Web Bonus Archive to discover reviews that don't appear in the book. It's all here.


THE ORIGINAL PRINT VERSION of "DYLAN: CONTRABAND" was published by Desolation Row Promotions Ltd. It's now available again as a fully searchable pdf file, deliverable as an email attachment or by CD. The choice is yours!

Full details are above, but if you have any questions or queries, please email me.
Remember, these are the places to be!
The 208 CDs reviewed in Ø "DYLAN: CONTRABAND" Ø ...
12/- A Pound
1965 Interview, The
Acetates On The Tracks Vol. 1 (1962-1965)
Acetates On The Tracks Vol. 2 (1965-1974)
Acetates On The Tracks Vol. 3 (1974-1984)
Acetates On The Tracks Vol. 4 1964-94
Acoustic Troubadour
After The Crash Vol. 1
After The Crash Vol. 2
All American Boy
All Hallows' Eve & More
Answer Me
Apollo Landing
At The Flood
Banjo Tape & NYC Town Hall, The
Bathed In A Stream Of Pure Heat
Beacon Blues Again
Before The Crash Vol. 1
Before The Crash Vol. 2
Blackbushe
Blood On The Tapes
Blown Out On The Trail
Blue-Eyed Boston Boy
Bob Dylan & The Hawks Play Fucking Loud
Bob Dylan At The Hollywood Bowl
Bob Dylan In Concert
Bob's Full House - Brixton III
Border Beneath The Sun
Breadcrumb Sins
Broadside
Can't Wait Vol. 1
Clean Cuts (Henry Porter's 115th Dream)
Come Baby, Rock Me
Complete Supper Club Recordings, The
Completely Unplugged
Contract With The Lord (Parts 1 & 2)
Covering Them
Critics Choice Vol. 1 & 2, The
Critics Choice Vol. 3, The
Critics Choice Vol. 4, The
Critics Choice Vol. 5 & 6, The
Critics Choice Vol. 7, The
Critics Choice Vol. 8, The
Dared To Be Free
Darkness At The Break Of Noon
Deeds Of Mercy, The
Dignity
Dirty Lies
Down In The Flood
Driftin' Too Far From The Shore
Dylan Gets To The Point
Dylan Plays Dead
Dylan/Cash Sessions, The
Early Years Vol I, The
Early Years Vol. II, The
Emmett Grogan Acetates & Other Rarities, The
Empire Strikes Back, The
Even Harder To Find
Exclusive Series '94
Exclusive Series '95
F*** The Play List! - Brixton II
Farewell Bloomfield
Fifth Time Around
First Supper
Flagging Down The Double E's
Folksingers Choice
Freewheelin' Bob Dylan Outtakes, The
French Girl, The
Friend Of The Devil
Friend To The Martyr (Outfidels), A
Friends & Other Strangers (The Band)
From The Coast Of Barcelona (1984 set)
From The Coast Of Barcelona (1993 set)
From The Mountains Of Madrid
Genuine Basement Tapes Vol 1, The
Genuine Basement Tapes Vol 2, The
Genuine Basement Tapes Vol 3, The
Genuine Basement Tapes Vol 4, The
Genuine Basement Tapes Vol 5, The
Genuine Bootleg Series Take 2, The
Genuine Bootleg Series, The
Guided By The Eternal Light
Guitars Kissing & The Contemporary Fix
Hammersmith Highlights
Hard Times In New York City
Hard To Find
Hard To Find: Volume 2
Hardest To Find (Lost Diamonds 1986-96)
Have Mercy
Hear The Document!
Heartbreaker Blues
Highway 61 Revisited Again
Highway 61 Revisited Again... 'n' Again
Highway Of Diamonds Vol. 2, A
Himself
Hold The Fort (Lock Up The Warehouse)
House Of The Blues
Hunted (Like A Crocodile)
Hurricane Carter Benefit, The
If Not For You
Illusion Of Time, The
Important Words
In The Heart Of Oregon
Infinity On Trial
Isle Of Wight (Lavender version)
Isle Of Wight (Wanted Man version)
Japan 1994
Jokerman
Jokerman And Queen Mary
Laguna Beach
Lake Compounce Festival Park
Leicester '66
Les Temps Changent
Live At The Pitstop 78 - Gaza Strip
Live, Finjan Club, Montreal, July 2 1962
Ljubljana '91
London England
Loud And Strong
Love Minus Zero
Love Songs For America
Lucky 13
Lucky Luke
Lucky Not To Be Destroyed
Madison Square Garden
Maestro
Manchester Prayer
Master Of Woodstock
Melbourne, Australia
Midas Touch, The
Midfyn
Million Miles
Minnesota Tapes, The
Modern Minstrel
More Sunrises
Moving Violation
Napoleon In Rags
Nashville 1969
Never Ending Tour, The (1991 set)
Never Ending Tour, The (1993 set)
Never Mind The Bollocks Here's Bob Dylan
New Found Faith
North Wind Blowing
Northern Songs
Not Dark Yet
Not Much Is Really Sacred
Now Ain't The Time For Your Tears
Now's The Time For Your Tears
Oh Mercy Outtakes
Old Orchard Beach '89
One Hand Waving Free
Outside The Empire
Paradise Hawaiian Style
Paradise Regained
Peco's Blues
Pedlar Now Speaks, The
Plymouth Rock
Poet & The Players, The
Possum Belly Overalls
Press Conferences 1986
Private Affairs Of Bob Dylan, The
Real Voice Of America, The
Reference Recording - The Greatest Single Ever Made
Revisiting Autobahn '95
Rich For Poor
Romantic Facts Of Musketeers
Romantic Tales Of Musketeers
Roseland
Rough Cuts
Royal Albert Hall 1966
Rundown To Maggie
Satisfied Man
Second Supper
Sensei
Singing With The Crow
Sings For His Supper
Skippin' Reels Of Rhyme
Songs From The Soundboard '97
Songs Of Darkness Songs Of Light
Songs That Made Him Famous
Soul
Sounds Inside My Mind
Statue Of Liberty
Staying Here With You
Stuck Inside Of New York
Studs Terkel's Wax Museum
Stumblin' Along
Summer Night 1995
Summer Of Love: Highway Of Diamonds
Tailgates & Substitutes
Talking Too Much
Tempest Storm
Testament
Thin Wild Mercury Music
Through A Bullet Of Light
Through A Glass Darkly
Toad's Place Vol. 1
Toad's Place Vol. 2
True Stories
Unplugs It Once More
Voices In The Garden
Wanted Man
Washington 1994
Wicked Messenger, The
Wiener Club Of Spalding, The
With One Hand Waving Free...
With One Hand Waving Free... Vol. 2
You Ain't Going Nowhere
You Don't Know Me