IN MANY WAYS, Dandelion was the antidote to record labels.
There was a half-assumption that artists could (and should) produce themselves. Sales, and the bottom line, took second place to artistic integrity.
The company was a sort of hippie hangover that was great to be a part of. Trouble was, as artists we really were given more freedom than was good for us.
Most record companies issue sampler albums at the earliest possible opportunity to promote sales. Not Dandelion. Dandelion put out its one and only sampler, "There Is Some Fun Going Forward", as its very last release in 1972.
That was a little sad for me, because "... Fun Going Forward" contained the one track that I released with them as John Trevor, namely "Sky Dance".
But let's step back.

THE YEAR BEFORE, Beau had released an album called "Creation", backed on several tracks by a Rochdale outfit called The Way We Live. The feel of this set had been markedly less "folky" than the first "Beau" record in 1969; and the songs which were being considered for the third album were taking us further down the same road.
John Peel who, with Clive Selwood, was my joint-benefactor at Dandelion, put it to me that maybe a name change might help to define the new, harder edge. It seemed like a good idea at the time. So, we took my full name - Christopher John Trevor Midgley - selected the middle two, and agreed that for all future releases I would be "John Trevor".
Publicity pics were taken [check out the very rare Polydor/Dandelion poster featured in Clive Selwood's 2003 book "All The Moves (but none of the licks)" (Peter Owen), and the first song was put out: "Sky Dance" by John Trevor (backed again by The Way We Live, now themselves re-incarnated as "Tractor").

WHEN DANDELION'S SHUTTER CAME DOWN in 1972, I was left with one complete unreleased album, which we had tentatively called "High Mass", and a thousand ideas for new material.
Like to hear a sample? Well, this is "The Smoke Of Eden"; fairly typical of many of the songs on the "lost" third album.
(Useful footnote: a full-frequency version of "Eden" has now been released, confusingly under the old "Beau" name, on Angel Air's 2009 release, "Edge Of The Dark".)
Now, where were we? Oh yes - around this time, I was getting very deeply into Stockhausen, Lukas Foss, and particularly Béla Bartók. Add in Kurt Weill and a German avant-garde rock band called Faust, and you'll get an idea of the diverse range of influences that were filling John T's musical horizons.
Although the day job was taking up more and more of my time, the number of songs I was turning out went up by leaps and bounds after Dandelion folded. And so many were - weird! Like "Rats". And a ten-minute, thirteen-verse epic called "Why Do You Laugh?" (now on The Sound Of Salvation's "Twelve Strings to the Beau" vinyl LP, and also on Angel Air's "Edge Of The Dark"). And "Chilli Powder". Some however did still cling on to the old "folk" styling.

ON FEBRUARY 16th & 17th 1975, I put down a new set of fifteen songs at Tractor's studio in Heywood, Lancashire. Amongst these was a ballad called "The Roses Of Eyam".
Eyam (rhymes with "dream") is the plague village of North Derbyshire. Its story dates from the mid-17th century when the bubonic plague took a hold there. In an heroic act of self-sacrifice, the villagers sealed-off the hamlet to make sure the disease couldn't spread to the surrounding areas. Ninety-per-cent of them died (over three hundred), and many of the graves are still there for all to see on a hillside above the town.
Shortly after I wrote this song, San and I went to live in Dronfield, North Derbyshire, and I started doing the rounds of some local folk clubs as John Trevor. Amongst the songs I sang was "Roses Of Eyam", and amongst the people who heard it was one of the UK's finest folk music interpreters, Roy Bailey. Roy asked if he could use the song, and of course I said yes.
Now, twenty-five years on, Roy has sung "Roses Of Eyam" on every continent. He included it on his 1985 album "Hard Times", and re-released it in 1998 on the "Past Masters" CD (Fuse CFCD 403). It's a recording I'm particularly proud of (even though most people who know it will tell you that "Roses Of Eyam" is a Roy Bailey song!).
I myself never got round to releasing "Eyam" until 2007, when a 2000 version appeared as a bonus track on Cherry Red's re-release of "Beau". In 2013, my original 1975 take eventually surfaced on the "Twelve Strings to the Beau" vinyl album.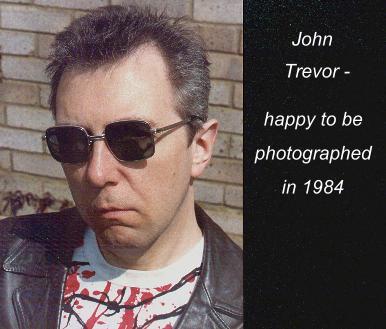 SOME FINE WORK came out of the John Trevor period. Much was experimental and will never see light of day.
It wasn't surprising that John Trevor rather faded into the background when Beau re-emerged in 1994. There was a brief flurry in 1995 when See For Miles Records put out JT's "Sky Dance" on their "There Is Some Fun Going Forward ... plus" re-issue (SEECCD427). But that was it - until of course Airmail Recordings in Japan reissued the track as a bonus on their domestic re-release of Beau's "Creation". Gets confusing, doesn't it?
Old folkies, however, have long memories. If you listened in to the John Trevor Radio Sheffield broadcasts in the late '70s, or were a regular on the South Yorkshire / North Derbyshire folk scene at the time, do send me a big hello!

FOR NOW, HOWEVER - the moving finger writes, and having writ, moves on... (Beautiful line, don't you think? From "The Rubber Yacht Of Omar Khayyam").
Oh, didn't I say? You can catch me at cjtmidgley@gmail.com
These are the places to be!