ABOUT BURNS LONDON LTD
BARRY GIBSON, guitarist, luthier, enthusiast and entrepreneur, began making Burns London instruments in 1992.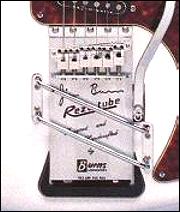 Jim Burns himself acted as a consultant to the Company until his death in 1998; in fact, early Burns London instruments with the Rez-o-Tube trem system invariably featured Jim Burns' signature on the tailplate (see the photo on the right, from a 1996 Legend guitar). However, this hasn't been followed through in later times.
For the first six years, all Burns London instruments were built in the United Kingdom; pursuing, I guess, the old Jim Burns philosophy of "mass-produced one-offs". Indeed, even today, all Custom Shop instruments are still UK-manufactured.
In 1999, Burns London's first Korean-built guitar - the "Marquee" - gained remarkable reviews. This was the instrument Burns used to launch the successful "Club Series". "Club Series" instruments continued to be built in Korea until 31st December 2007. From 1st January 2008, production moved to China.
In January 2004, the Company made its first foray into China with the "Custom Elite Series". Later in 2004, the "Player Series" was introduced (again Chinese made, though at a different factory).
BURNS USA
RATHER BIZARRELY, BURNS USA came into being indirectly as a result of 9/11.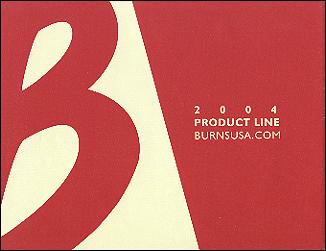 John Coates, a freelance business consultant with a passion for music, was in the UK around the time of the terrorist attacks. Quite suddenly, he found he had some time on his hands.
Surfing the web, he came across the Burns London website. This indicated that the BL Company was seeking a distributor for North America. John contacted Barry Gibson and the rest, as they say, is history.
Initially distributing Burns guitars and basses in partnership with a local Connecticut music retailer, John later became sole owner of Burns USA.
One bass guitar - the "Vista Sonic 5-String" - has the distinction of being the only instrument to carry a Burns USA logo (as opposed to Burns London).
Burns USA distributed Burns London instruments in the US from January 2002 until June 2005.
***************