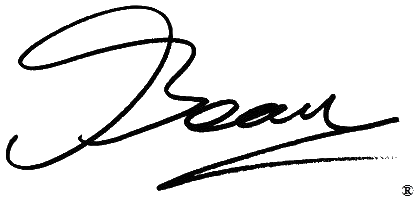 *** STOP PRESS ***
"When Butterflies Scream"
(Cherry Red Records BEAUWBS1)
A NEW BEAU RELEASE
with twelve brand new recordings
Available for download & streaming worldwide from
17th April 2017!
IT'S HARD TO BELIEVE, I know, but some of you out there in the reaches of cyberspace are still unfamiliar with Mark Beech's excellent trivia book 'The A-Z Of Names In Rock' (Robson Books 1998). However, the majority for whom this volume must be a constant source of reference will be pleased to know that the origins of the name 'Beau' have been fairly accurately reported.

What? I'm sorry? You're still waiting for your copy? OK, just for you I'll run through it again. Are you sitting comfortably? Right.


DATELINE 1957: I (Trevor Midgley, aged 11) had just been placed in Form 2C at Leeds Grammar School after a rather inauspicious first year in senior school life. Form 2C contained two Midgleys; I was Trevor, he was David (but known to all as 'Herb' - don't ask me why, I'm only telling the story).

J Howard-Brown was not only the French Master, but Form Master for our year as well. By tradition kids were known only by their surnames. As Howard-Brown had to regularly differentiate between us, he called me 'Beau'. To a 1950s schoolmaster, this was vastly more rational than calling me 'Trevor' and Herb 'David' (if you see what I mean). Anyway, for better or worse, the name stuck.

I was Beau when The Raiders rock group came into being in 1960, even tastefully emblazoning the name on my guitar in classy gold lettering. That way, no-one doubted the identity of the chubby axe-wielding midget making such a lot of noise up there on the stage.


THE YEARS PASSED, and I was a happy man. The Raiders did Shadows and Beatles and Stones and God-Knows-Who-Else's covers. We made money and it kept us off the streets. But then, in 1964, something very big happened: I heard Lead Belly, the great folk and blues singer from Mooringsport, Louisiana. And Lead Belly hit me like a train.

Much later on, in the mid-90s, I wrote a piece for the Lead Belly Letter, a publication of the Lead Belly Society in Ithaca, N.Y. With the permission of its (now late) Editor, Sean Killeen, I'd like to quote a few lines from that article which told what happened to me back in '64 and '65.

"At W H Smith's music shop in Leeds, I came across a 'bargain issue' record on the Society label called 'Leadbelly Sings And Plays'.

"I know how the record came to be issued - this was 1964 and the Beatles, the Stones, the Yardbirds were busily re-packaging the blues for export. Over here, many labels were releasing authentic original recordings to cash in on the R & B boom.

"What I don't know is why I bought 'Leadbelly Sings And Plays'. I knew nothing of the man, or his story - maybe it was just the name. But the record changed my life.

"Other influences were coming along, mostly from the US. Tom Paxton and Phil Ochs sang the social issues of the time and Lemon Jefferson, Willie McTell and others hollered across the decades. But mostly it was Lead Belly.

"So I bought a twelve-string guitar, took it down to 'C' tuning and started singing 'Fannin Street', 'Frankie And Albert', and 'DeKalb Blues'. A publicity photo from the time shows me, suited, with bow-tie and twelve-string, a perfect mix of the Yorkshire Urban Delta Blues.

"I left the (Raiders) band in late 1965 to concentrate on song writing, and on developing my own twelve-string technique."

I was lucky from the beginning. Aside from Lead Belly, my main 'folksy' influence was the aforementioned Tom Paxton. Tom was (and is) a superb songwriter and performer; stylistically however, he is nowhere near as powerful or overwhelming as the great Bob Dylan. I got deeply into Dylan in '68-'69 (check out the "Dylan: Contraband" page to see just how deep), but thankfully this came way after my own songwriting style was established. You'll hear very little of Bob Dylan in Beau - thank God!

Fast-forward a couple of years...
BY THE END OF 1967 I'd written about thirty original songs, and had developed what was regarded as a fairly individual twelve-string guitar style. I'd done a few small solo gigs to try things out, and now started to think, "OK, it's time to branch out".
The BBC was just putting together final plans for the launch of its network of local radio stations in the UK. I got in touch with them, mainly because BBC Radio Leeds was to be one of the first half-dozen or so to go on the air. After a little persistence, I got an invite to the Radio Leeds studios and did a run-through for a producer/presenter called Rory O'Dowd. Rory seemed to like what he heard, and put some wheels in motion. Beau made his maiden solo broadcast on BBC Radio Leeds' opening night in June 1968 alongside Jake Thackray, a budgie called Puck, and a bunch of other local notables.
A couple of six-show series' followed - imaginatively titled 'Beau' and 'The World Of Beau'. It's fair to say that, for a while, I was probably putting in too many appearances on the Radio Leeds airwaves. And from the first broadcast, I always used as a signature-piece a tune called 'The White Rose Song'.

YORKSHIRE TELEVISION also opened to the world in 1968.
In later years, the late Sid Waddell was a darts commentator and the most famous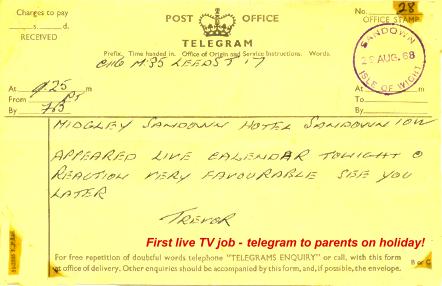 person in the world ever to say "One Hundred and EIGHTY!". Back in '68, he was a floor manager at YTV. Sid gave me a call. He'd heard 'The White Rose Song' - for those born outside God's Own County, the White Rose is the flower of Yorkshire - and thought it might make a useful piece for the early-evening magazine show, 'Calendar'.
So, on the 29th August 1968, Beau, a twelve-string guitar and 'The White Rose Song' brought a little happiness to those dour deprived northern folk who, it is well known, always glower at their television sets from below the peak of a cloth cap.
"What did you think of it?", I asked my Auntie Alice afterwards.
"Eee, it did seem to go on a long time," she said without removing the cap.

TOM PAXTON recorded for Elektra. Lead Belly's 'Library Of Congress Recordings' had been released by Elektra. I liked Elektra. So, I prepared a demo of four songs and sent it off to Elektra Records, c/o Polydor, Stratford Place, London W1.
Then I waited. And waited. And then one day, a letter came. It came from Clive Selwood, the UK boss of Elektra. It said could I get down to Polydor in London to do a test in their studio. Yes, I could.
One cold day in November 1968, I found myself in Clive's office surrounded by pictures of The Doors, Love, The Incredible String Band, and Tom Paxton and Phil Ochs, the people who played MY music. Everyone was kind, calm and drinking coffee. Clive was a gent, totally professional, and seemed to know everybody. Of particular interest was the fact that, amongst other things, he was John Peel's manager. His PA, Sylvia Kneller, was the epitome of '60s cool. Sylvia had a typewriter with a script typeface. I'd never seen one of those before, and was well impressed.
Into the studio we went; the engineer set up the mics, and the tape rolled. And much as had happened with The Raiders back in 1964, I laid down a bunch of first takes; thirty-three in all. Clive laid back on a bench, and for most of the session all I could see was his feet sticking up above the control room window. And I could hear his voice after every song - "Nice one, Beau. Do another".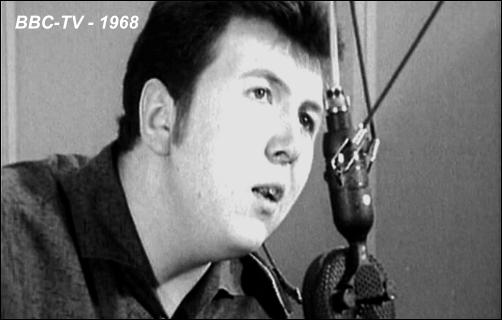 He must have liked me, because afterwards he bummed a lift out to Slough in my old A35 van. It wasn't out of my way - I was due at Reading University - but on the road he said the tapes would be sent to Jac Holzman in New York (Jac owned Elektra). He (Clive) would be in touch.
And that was it.
The sad end to the day came when my Hoyer twelve-string guitar was stolen out of the van at Reading University. I never saw it again. And would you believe, I still keep a look-out on eBay; just in case...
But all clouds have silver linings. At least mine did a few weeks later when I came by the most beautiful-toned Harmony twelve-string you ever heard. It featured on every 'Beau' track I ever recorded (until the Edge Of The Dark' sessions, which featured one or two other nice little instruments) and is now almost fifty years old. And it has never sounded better than it does today.

THEN THE WAITING BEGAN. One month, two months, three months. I thought it was all over when, at the beginning of March 1969, a letter came; a letter in that curious script typeface; a letter from Clive which said that Jac Holzman didn't want me for Elektra. I was devastated. But the second paragraph was a little more uplifting. It said that Clive Selwood and John Peel were launching a label called Dandelion, and that they wanted me to record for them; starting out with an album. Could I let them know if I was interested?
Fifteen seconds later, when I got past the infuriatingly slow woman on the Polydor switchboard, I was having a cool and laid-back conversation with Sylvia Kneller. "Yeah, I think we can make that work," I said. "Fab," said Sylvia, "I'll tell Clive".

NOW THINGS MOVED QUICKLY.
The recording contract with Dandelion, the publishing agreement with Biscuit Music, the Performing Rights Society and Songwriters Guild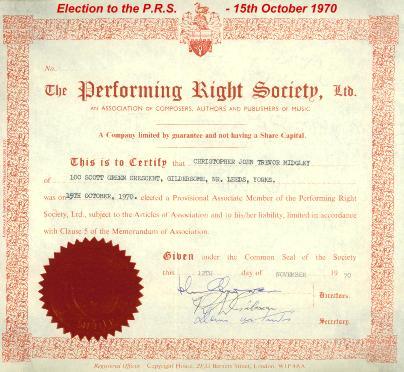 membership applications all came through within a few days. Two recording sessions were set for the afternoons of the 14th and 18th April at CBS Studios in New Bond Street.
With the help of a wonderful house engineer called Mike Ross, fourteen useable tracks went down on the first date. The afternoon of the 18th was used to record a song called 'A Nation's Pride' which I'd written between the sessions, and a shortened version of '1917 Revolution'.
(Clive reckoned at that point that the full take of 'Revolution' was too long for a single, and that a shorter version would get us more airplay. In the end however, we weren't too happy with chopping the song back, and the full record was put out as Dandelion's first single release; I have to say, to general acclaim! The short version disappeared into the vaults, never to be heard of again. Until now, that is!
'Cos the good news is, an acetate of the 18th April version came to light in 2002! If you care to click here, you can listen to the full '1917 Revolution - single outtake' from 18th April 1969 in RealAudio. Now tell me, which one do you prefer?)
My first album, again imaginatively titled 'Beau', came out in the August of that year.
In the event, '1917 Revolution' got a fair bit of airplay on 'Wunnerful' Radio One and on Radio Luxembourg, and the Dutch station Hilversum played the full 'Beau' album. But the strangest thing happened in early October.
Clive phoned. "Do you want to hear something funny?"
"Tell me."
"'Revolution' is number three in the singles chart in the Lebanon. It came in at number five last week, now it's number three and still rising."
The following week, and for three weeks, '1917 Revolution' held the number one spot in the Lebanese singles chart - Dandelion's only chart record anywhere apart from Medicine Head's 'Pictures In The Sky'.

IN NOVEMBER I got another phone call, but this voice went further back.
"Hi Beau, it's Jeff Christie. Congratulations on the album. Thought you might like to know, I've got a deal." This was for a one-single release on CBS. Jeff had put together a band. He was doing the vocals and playing bass, and they'd been into CBS's studio with Mike Smith producing.
"It's getting its first radio play after midnight tonight on the BBC's 'Night Ride'," Jeff told me. "We've called the band Christie; the track is 'Yellow River'".
Now, San and I had only been married for a month or so, but we conscientiously sat up until nearly one-thirty in the morning to hear Christie's debut. And when they played 'Yellow River', both of us agreed "That's gonna be big". And it was; world-wide mega-big.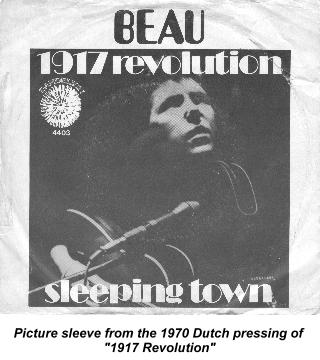 IN 1970, the Dandelion 'stable' did a number of promotional gigs, one of the most memorable being at the Paradiso Club in Amsterdam. As dedicated readers of these pages will know, I had in the past navigated my way through occasional bottles of booze and smoked the odd ton of tobacco; but I had never done drugs (apart, of course, from nicotine and alcohol...). So I wasn't too familiar with the strange smell that pervaded the atmosphere in the Paradiso. You could cut it with a knife. But the people were all so friendly and happy, you hardly noticed that you couldn't breathe...
Outside the Paradiso, with John Peel in tow, we all adopted acceptably studious poses whilst assembled photographers clicked away. One of their masterpieces ended up on the front cover of Billboard magazine, coast-to-coast across the USA. Fame at last!
[Incidentally, this pic., along with one or two nice comments about yours truly, appears in "All The Moves (but none of the licks)" (Peter Owen 2003), Clive's excellent and detailed expose of the UK record business.]

JUST BEFORE THE TURN OF THE YEAR, the phone rang again. Three phone calls in three months! Clive again.
"Beau, I've got one or two ideas for the second album."
I'd already sent down a bunch of new songs which he liked, but Clive had had some further thoughts.
Dandelion was about to release a rather fine album called 'Mike Hart Bleeds'. Though Mike Hart and I were in no way similar, Clive felt that the sort of subtle backing that was a feature of the Hart release might also work for me. He sent me a copy of Mike's tapes to see if I agreed.
After New Year, Clive was wearing out the phone lines again. He told me that Dandelion had signed a remarkable new band from Rochdale called The Way We Live. They were rock, not folk, but very versatile and would be interested in working with me; would I be interested in checking them out?
"Sure," I said.

I FIRST MET JIM MILNE, Steve Clayton and John Brierley in 1971 at a house in Edenfield Road, Rochdale where The Way We Live had their studio set-up. They really were easy to work with. They had no problem accommodating to my folky style, and I welcomed their harder-rock input. After a couple of rehearsals, The Way We Live signed on as backing band for my second album, 'Creation'.
(Here, I gotta digress. I'd completely forgotten about this, but just before we started rehearsing for the new album, I put down two of my established songs as Dandelion demos. These were in the 'traditional' Beau style - just vocal and twelve-string guitar. A very rare acetate has only recently surfaced. Click on 'The Hilltop' or 'The Simplest Of Things' to hear RealAudio clips. And if you'd like a full mp3 of either or both songs, just e-mail me and I'll be happy to oblige.)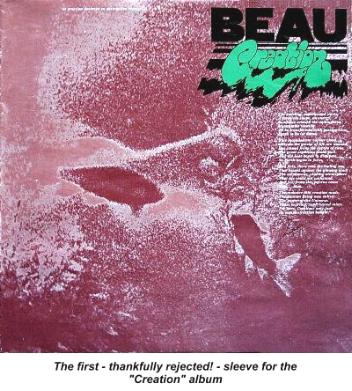 'CREATION' WAS RECORDED at Hollick & Taylor's sound studio in Birmingham. John Taylor, the owner, was a nice man but did rather struggle to get the sound we wanted. You'll understand our problem if I tell you that Hollick & Taylor's main focus at the time was soundtrack recording for 'Thunderbirds'.
The Way We Live were many things, they weren't International Rescue! And I wasn't Lady Penelope... So, ultimately we took the tapes back to London and mixed them at Marquee Studios.
'Creation' came out in June 1971. It's an unusual set. Part folk, part rock, it also contains more than a hint of the avant-garde. Some said the move away from the acoustic simplicity of the 'Beau' album was a result of my working with The Way We Live. That is not true; the seeds of change were sown well before I met Jim, Steve and John. But that's more John Trevor's business. He'll tell you what happened after 1971.

TO EVERYONE'S SURPRISE, Beau re-surfaced in 1994.
It all started with an interview that John Peel did for Interzone Magazine in January. John mentioned '1917 Revolution', and its by-then-prehistoric Lebanese success. Then Q Magazine ran a feature article in September in their 'Where Are They Now?' slot.
In 1995, See For Miles Records released the twenty-five-track 'Creation/Beau' (SEECD421), a nicely packaged 'two-albums-on-one CD' presentation.
Vox Magazine did a Dandelion retrospective in November 1995, again specifically drawing attention to '1917 Revolution'. And so it kept on.
*********
IN THE 21ST CENTURY there have been more interviews and articles - Wikipedia have a fairly up-to-date list - and many more re-releases of my Dandelion work in all formats. Complete albums (with 'bonuses') and compilations have appeared on CD, vinyl, download, and via streaming.
And because the muse has yet to depart, I've released many more new songs and albums in my sixties than I ever did in my twenties, even taking on a brand new persona, Simfonica.
Stick around, folks – there's much more to come! And do check out my Recorded Songs page. There you'll find full details of what's been available, what's still available, and from where.
After changes upon changes, the story continues...
*********
SPEAKING OF JOHN TREVOR (which some little way back we were), you might have noticed a gap in time towards the end of this little saga; from 1972 to 1994 to be precise. Well, I'm calling that The Time Of JT - which means that this is where Beau passengers leave the bus!
You're up-to-date on Beau; all Beau'd out. Silence Returns - unless of course you put finger to keyboard and I hear the ping of an incoming e-mail to cjtmidgley@gmail.com.
*********
These are the places to be!
Trevor Midgley
Create your badge