INDEX
WEBMASTER'S NOTE:
In the short prologue to their to their "School Register" listing, Matthews & Thompson comment:
"THOUGH the Registers prior to 1820 have either been lost or, as is perhaps more probable, were never kept, it has been found possible to obtain the names of a considerable number of "Old Boys," who received their education wholly or in part at the Leeds Grammar School before the year 1820.

It will be seen that, as might perhaps be expected, the great majority of these names are those of graduates of our old Universities, and that there are comparatively speaking very few non-University men who are known to have distinguished themselves in after-life. The dates which precede the several names which follow represent approximately the period at which the owner of the name was at the Grammar School."
These "pre-1820" pupils are detailed in pages 1-7 of the "Register".
*****
In a prelude to the extensive "Addenda Et Corrigenda", they say:
"THE Editors regret that the following list is of such formidable proportions, but it was found necessary, in order to avoid the expense of keeping large quantities of type standing, to print off each sheet of the Register separately. It has therefore been impossible to insert in its proper place information obtained since the particular sheet in question was printed off."
In the following table, all "Addenda Et Corrigenda" items are marked with and asterisk (*).
*****
Finally, the following information appears after the "Addenda Et Corrigenda", but before the "Index" itself: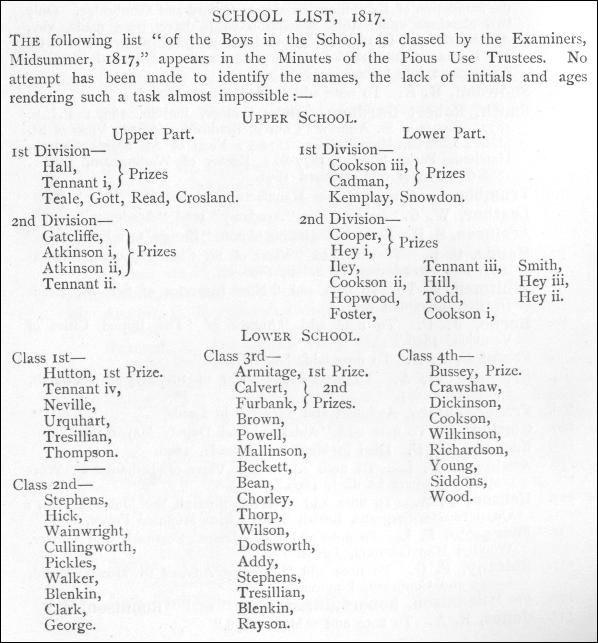 *****
If you'd like copies of any entries from the following table, please e-mail me with the name and page number, and I'll be happy to send you a scanned image of the relevant page(s).
| | | | | | |
| --- | --- | --- | --- | --- | --- |
| PUPIL | PAGE NUMBER | PUPIL | PAGE NUMBER | PUPIL | PAGE NUMBER |
| Abbay, W. | 74 | Gordon, J. T, | 146 | Phillips, E. | 30 |
| Abbott, C. B. | 107 | Gordon, John | 109 | Phillips, E. R. | 169 |
| Abbott, F. | 46 | Gordon, John* | 177 | Phillips, F. | 75 |
| Abbott, G. H. | 76 | Gorham, G. M. | 44 | Phillips, G. | 116 |
| Abbott, G. H. | 123 | Gothard, C. | 61 | Phillips, G. A. | 168 |
| Abbott, H. A. | 146 | Gothorp, S. | 173 | Phillips, H. M. | 168 |
| Abbott, J. | 48 | Gott, H. | 142 | Phillips, H. R. | 167 |
| Abbott, J. E. | 139 | Gott, W. | 49 | Phillips, J. | 57 |
| Abbott, R. | 57 | Gough, E. H. T. | 145 | Phillips, P. | 14 |
| Abe, F. G. L. P. | 59 | Gough, G. S. M. | 145 | Phillips, R. | 169 |
| Abell, W. T. | 102 | Gould, G. A. W. | 148 | Phillips, S. | 75 |
| Ackroyd, W. | 63 | Gould, J. L. | 148 | Phillips, W. J. | 116 |
| Acomb, G. | 169 | Graham, George | 34 | Phythian, G. S. | 162 |
| Acroyds, I. | 88 | Graham, George | 56 | Phythian, S. S. | 162 |
| Adams, B. G. | 146 | Graham, George | 146 | Pickard, — | 74 |
| Adams, C. | 15 | Graham, J. M. | 56 | Pickard, A. | 78 |
| Adams, H. F. S. | 121 | Graham, M. | 67 | Pickard, C. | 47 |
| Adams, W. E. | 167 | Graham, T. | 46 | Pickard, F. | 54 |
| Addinell, A. M. | 24 | Granger, A. C. | 77 | Pickard, I. | 52 |
| Addyman, — | 73 | Granger, F. M. | 93 | Pickering, A. R. | 129 |
| Addyman, R. L. | 129 | Granger, H. | 17 | Pickering, G. G. | 134 |
| Addyman, T. P. | 69 | Granger, W. | 15, 17 | Pickering, P. J. | 121 |
| Ainley, M. H. | 33 | Grant, G. R. | 134 | Pickering, R. W. | 38 |
| Ainley, W. | 22 | Grant, J. K. | 166 | Pickering, S. | 140 |
| Ainslie, A. G. | 159 | Graveley, J. | 40 | Pickersgill, T. | 103 |
| Ainslie, J. L. | 154 | Gray, C. S. | 171 | Pickersgill, W. | 57 |
| Ainsworth, W. | 48 | Gray, E. | 85, 99 | Pickles, E. | 30 |
| Akehurst, C. | 54, 59 | Grayburn, J. | 76 | Pickles, G. W. | 30 |
| Akehurst, L. | 56 | Grayburn, P. | 75, 83 | Pickles, J. C. | 63 |
| Akeroyd, C. | 102 | Grayburn, W. E. H. | 159 | Pickles, J. H. | 23 |
| Akeroyd, J. B. | 54 | Grayson, E. | 62 | Pickles, John | 11 |
| Albrecht, S. A. | 173 | Grayson, G. | 59 | Pickles, Joseph | 48 |
| Albrecht, W. H. | 167 | Grayson, J. B. | 28 | Pickles, P. D. | 169 |
| Aldam, E. | 61 | Grayson, John | 57 | Pickles, S. | 135 |
| Alison, T. | 33 | Grayson, John | 86, 99 | Pickles, W. | 10 |
| Allan, A. T. | 110 | Grayson, S. | 67 | Pickles, W. N. | 172 |
| Allen, E. | 54 | Grayson, T. | 50 | Pierson, H. | 136 |
| Allen, J. | 59 | Grayson, William | 28 | Pike, J. | 14 |
| Allen, S. | 46 | Grayson, William | 53 | Pinder, B. | 14 |
| Allen, T. | 54 | Greaves, R. S. | 174 | Pinder, G. | 14 |
| Allen, W. E. | 42 | Greaves, V. W. S. | 164 | Pitts, J. | 58 |
| Allison, F. W. | 163 | Green, A. E. | 71 | Pitts, T. S. | 71 |
| Allison, F. W.* | 178 | Green, E. S. | 82 | Plant, W. C. | 22 |
| Allison, J. F. | 39 | Green, G. T. | 33 | Platt, A. M. | 80 |
| Allmar, T. | 30 | Green, John | 24 | Platt, A. W. | 145 |
| Ambler, J. R. | 51 | Green, Joshua | 66 | Platt, T. E. | 152 |
| Anderson, A. | 143 | Green, P. | 166 | Platts, C. H. | 141 |
| Anderson, H. W. | 125 | Green, Richard | 36 | Plews, G. | 85, 100 |
| Anderson, N. E. | 158 | Green, Robert | 57 | Plews, P. R. | 87 |
| Anderson, S. | 159 | Green, T. W. | 82 | Plews, T. | 87, 100 |
| Anderson, S. W. | 127 | Green, Thomas | 51 | Plint, F. A. | 91 |
| Anderson, W. | 49 | Green, Tom | 60 | Plint, J. A. | 79 |
| Anderson, W. F. F. | 158 | Green, W. C. | 22, 31 | Plitts, R. | 13 |
| Andrews, E. | 154 | Greene, E. E. | 114 | Plummer, F. R. | 122 |
| Andrews, Harry | 172 | Greene, W. F. | 69 | Plummer, R. H. | 129 |
| Andrews, Hugh | 172 | Greenland, G. H. | 48 | Pogson, F. W. | 138 |
| Andrews, J. D. | 165 | Greenup, F. | 22 | Pollard, F. H. | 126 |
| Andrews, James | 13 | Greenup, H. | 22 | Pollard, J. H. | 114 |
| Andrews, James | 86, 99 | Greenwood, A. | 74 | Pollard, R. | 143 |
| Angele, C. H. | 32 | Greenwood, C. W. | 86, 99 | Pollock, C. F. | 110 |
| Angell, C. H. | 26 | Greenwood, E. | 74 | Pollock, T. F. | 123 |
| Angell, C. H.* | 176 | Greenwood, F. | 75 | Ponsonby, P. E. | 119 |
| Anson, H. A. | 66 | Greenwood, G. H. | 62 | Pool, C. | 47 |
| Appleby, B. | 137 | Greenwood, J. | 29 | Poole, C. W. | 21 |
| Appleby, H. | 137 | Greenwood, S. | 70 | Poole, M. B. | 21 |
| Appleton, R. | 147 | Greenwood, W. P. | 88 | Pope, F. | 109 |
| Appleyard, B. | 128 | Gregson, J. | 26 | Pope, F. D. | 170 |
| Appleyard, E. | 128 | Greig, E. H. | 164 | Pope, R. | 109 |
| Appleyard, J. F. | 42 | Greig, J. F. | 163 | Porritt, W. H. | 41 |
| Appleyard, T. W. | 44 | Gresham, T. H. | 128 | Porter, J. | 7 |
| Appleyard, T. W. | 90 | Grier, A. | 97 | Portway, C. H. | 167 |
| Appleyard, W. | 14 | Griesbach, T. S. | 96 | Portway, G. W. | 141 |
| Armfield, A. W. | 69 | Gross, S. | 146 | Portway, H. | 83 |
| Armfield, C. N. | 56 | Grove, T. | 157 | Portway, J. H. | 141 |
| Armistead, E. | 58 | Groves, H. B. | 144 | Portway, R. B. | 158 |
| Armistead, T. B. | 169 | Gumby, W. H. | 68 | Potter, Alfred | 111 |
| Armitage, A. | 108 | Gurney, James | 148 | Potter, Arthur | 153 |
| Armitage, B. | 33 | Gurney, John | 148 | Potter, J. E. | 162 |
| Armitage, D. | 60 | Guy, R. | 88 | Potter, J. H. | 138 |
| Armitage, E. | 113 | Hagg, F. B. N. | 74 | Potter, P. | 142 |
| Armitage, H. L. | 108 | Haigh, A. E. | 95 | Potter, W. | 141 |
| Armitage, H. W. | 28 | Haigh, C. | 126 | Potter, W. F. | 71 |
| Armitage, J. | 10 | Haigh, C. D. | 71 | Poulter, T. | 164 |
| Armitage, R. T. D. | 169 | Haigh, D. H. | 30 | Powell, T. B. | 47 |
| Armitage, W. | 28 | Haigh, Daniel | 22 | Powell, T. W. | 29 |
| Armitage, W. | 80 | Haigh, Daniel | 65 | Powell, W. W. | 90 |
| Armitage, W. W. | 127, 130 | Haigh, F. E. | 78 | Preece, C. E. | 167 |
| Armstrong, D. | 149 | Haigh, J. | 22 | Prentice, T. R. | 77 |
| Armytage, J. N. G. | 16 | Haigh, S. | 78 | Pressler, F. E. | 92 |
| Arnold, E. G. | 130 | Haigh, W. A. | 78 | Preston, T. | 4 |
| Arundel, C. R. | 146 | Haigh, W. R. | 18 | Price, H. W. | 27 |
| Ash, R. G. | 93 | Haigh, William | 22 | Price, W. N. | 35 |
| Ash, T. | 94 | Haigh, William | 41 | Prichard, H. W. | 155 |
| Aspinall, B. | 140 | Haley, A. R. | 46 | Prickett, R. | 17 |
| Aspinall, E. H. | 148 | Haley, J. L. | 48 | Priestley, C. A. | 102, 105 |
| Aspinall, F. S. | 123 | Hall, B. | 61 | Priestley, C. H. | 27 |
| Aspinall, H. | 123 | Hall, E. | 130 | Priestley, J. | 111 |
| Asquith, F. | 154 | Hall, F. | 129 | Priestley, J. H. | 135 |
| Asquith, J. H. | 145 | Hall, H. | 125 | Priestley, J. W. | 103 |
| Atkinson, A. R. | 113 | Hall, J. A. | 72 | Priestley, T. | 77 |
| Atkinson, A. S. D. | 149 | Hall, J. B. | 127 | Prince, T. | 65 |
| Atkinson, Alfred | 35 | Hall, James | 75 | Prior, E. G. | 96 |
| Atkinson, Ambrose | 119 | Hall, John | 27 | Procter, — | 32 |
| Atkinson, C. | 6 | Hall, Joseph | 40 | Procter, C. H. | 167 |
| Atkinson, C. C. | 145 | Hall, M. | 118 | Procter, H. | 33 |
| Atkinson, C. D. T. | 150 | Hall, P. F. | 125 | Procter, P. H. | 174 |
| Atkinson, C. F. | 75 | Hall, R. | 8 | Proctor, J. | 5 |
| Atkinson, C. H. | 61 | Hall, R. H. | 118 | Proctor, T. R. | 48 |
| Atkinson, D. | 23, 26 | Hall, T. | 61 | Pugh, J. L. | 42 |
| Atkinson, E. O. | 150 | Hall, W. | 75, 83 | Pulford, A. I. | 155 |
| Atkinson, Edward | 10 | Hall, W. S. | 114 | Pullan, C. | 9 |
| Atkinson, Edward | 29, 30 | Hallen, J. H. B. | 44 | Pullan, E. | 10 |
| Atkinson, Edward | 37, 42 | Halley, J. | 28 | Pullan, G. E. | 126 |
| Atkinson, F. W. | 87 | Halliday, B. W. | 67 | Pullan, G. T. | 45 |
| Atkinson, G. W. | 116 | Halliday, T. | 130 | Pullan, R. | 14 |
| Atkinson, H. L. | 142 | Halliday, T. W. | 67 | Pullan, Thomas | 7 |
| Atkinson, J. | 99 | Hallilay, H. | 117 | Pullan, Thomas | 30 |
| Atkinson, J. B. | 33 | Hallilay, R. P. | 117 | Pullan, W. | 40 |
| Atkinson, J. F. | 99 | Halliley, E. | 32 | Pullen, T. | 34 |
| Atkinson, James | 85 | Halliley, F. | 51 | Pulleyn, F. W. | 122 |
| Atkinson, Jasper | 117 | Halliley, F. T. | 40 | Purchon, W. | 72 |
| Atkinson, John | 5 | Halliley, J. W. | 37 | Pyatt, G. | 37 |
| Atkinson, L. | 57 | Halliley, W. | 60 | Pyatt, R. H. | 58 |
| Atkinson, Miles | 10 | Halliwell, J. | 93 | Pycock, A. E. G. | 129 |
| Atkinson, Miles | 78 | Hamerton, A. | 156 | Pycock, J. | 80 |
| Atkinson, Moses | 81 | Hamerton, W. F. M. | 152 | Pyper, G. A. L. | 142 |
| Atkinson, P. L. | 152 | Hamilton, J. | 39 | Radcliffe, S. | 16 |
| Atkinson, R. H. | 70 | Hamilton, R. W. | 27 | Raine, J. W. | 68 |
| Atkinson, R. H.* | 177 | Hammond, J. T. | 157 | Raistrick, C. H. | 55 |
| Atkinson, R. L. | 119 | Hammond, R. | 160 | Raistrick, J. C. | 50 |
| Atkinson, R. L.* | 177 | Hammond, T. | 63 | Ralph, A. | 121 |
| Atkinson, Reginald | 108 | Hammond. H. D. | 160 | Ralph, J. | 121 |
| Atkinson, Richard | 31 | Hancock, W. H. M. | 160 | Ramsbotham, F. S. | 89 |
| Atkinson, Richard* | 176 | Handcock, C. | 64 | Ramsbotham, J. R. | 82 |
| Atkinson, Robert | 17 | Handcock, G. | 55 | Ramsden, J. M. | 112 |
| Atkinson, Samuel | 22 | Handcock, J. | 62 | Ramsden, W. R. | 37 |
| Atkinson, Saville | 36 | Handcock, R. | 67 | Ramskill, E. J. | 42 |
| Atkinson, T. | 6 | Handcock, R. O. | 162 | Ramskill, J. | 47 |
| Atkinson, T. | 21 | Handcock, W. | 56 | Ramskill, T. W. | 58 |
| Atkinson, T. H. S. | 161 | Hanson, C. | 17 | Ratcliffe, J. H. T. | 159 |
| Atkinson, W. | 87 | Harbron, W. | 74, 75 | Rattenbury, F. M. | 135 |
| Atkinson, W. C. | 121 | Hardcastle, A. H. | 144 | Rattenbury, J. | 128 |
| Atkinson, William | 18 | Hardcastle, H. | 124 | Rawley, R. E. | 105 |
| Atkinson, William | 25 | Hardcastle, J. | 67 | Rawling, J. W. | 75 |
| Atkinson, William | 35 | Hardcastle, J. R. | 161 | Rawlings, C. W. | 74 |
| Atkinsoo, Richard | 8 | Hardcastle, S. | 74 | Rawlings, J. W. | 100 |
| Audsley, J. E. | 18 | Harding, E. L. | 174 | Rawson, H. B. | 40 |
| Austen, J. | 57 | Harding, G. H. O. | 161 | Rawson, J. | 66 |
| Austen, S. | 58 | Harding, R. W. | 149 | Rayner, B. B. B. | 135 |
| Austin, A. | 154 | Harding, T. W. | 74, 83 | Rayner, F. W. | 126 |
| Austin, G. A. | 103 | Harding, W. A. H. | 144 | Rayner, G. | 127 |
| Austin, W. | 103 | Hardisty, J. A. | 55, 59 | Rayner, H. | 126 |
| Autey, W. | 56 | Hardisty, R. H. | 27 | Rayner, J. | 64 |
| Autey, W. | 60 | Hardisty, W. H. | 110 | Rayner, T. | 29 |
| Auty, C. | 68 | Hardwick, — | 73 | Rayson, G. | 9 |
| Aylward, J. | 15 | Hardwick, D. W. | 97 | Raywood, V. R. | 158 |
| Ayrton, E. | 86 | Hardwick, H. G. C. | 117 | Read, G. H. | 90 |
| Ayrton, H. A. | 91 | Hardwick, P. | 95 | Reade, G. | 14 |
| Ayrton, W. S. | 80 | Hardwick, R. | 12 | Reade, J. | 8 |
| Backhouse, D. | 29 | Hardwick, W. L. R. | 150 | Reade, T. | 14 |
| Bacon, A. T. | 97 | Hare, C. P. | 171 | Redihalgh, J. W. | 64 |
| Bacon, G. F. | 127 | Hare, G. J. | 62 | Reid, R. M. | 167 |
| Bagnall, F. L. | 32 | Hargraves, B. | 26 | Reinhardt, C. | 28 |
| Bailey, E. | 26 | Hargraves, B.* | 176 | Reinhardt, J. C. | 28 |
| Bailey, John | 19 | Hargraves, H. | 134 | Reinhardt, J. C. | 87, 100 |
| Bailey, John | 97 | Hargreave, — | 70 | Reinhardt, W. | 123 |
| Bailey, R. | 97 | Hargreave, J. H. B. | 39 | Reinhardt, W. T. | 87, 100 |
| Baily, E. C. | 126 | Hargreaves, A. | 50 | Rennison, J. | 140 |
| Baily, J. T. H. | 126 | Hargreaves, C. | 50 | Rennison, W. | 140 |
| Bainbridge, G. | 85 | Hargreaves, G. E. | 119 | Rennison, W.* | 177 |
| Bainbridge, J. | 5 | Hargreaves, W. M. | 119 | Revell, S. | 113 |
| Baines, A. T. | 144 | Hargrove, C. R. | 169 | Reynard, J. | 50 |
| Baines, E. | 139 | Harland, J. W. | 107 | Reynolds, A. | 75 |
| Baines, F. T. | 143 | Harle, B. B. | 60 | Reynolds, C. | 46 |
| Baines, H. S. | 139 | Harle, E. | 134 | Reynolds, F. | 46 |
| Bairstow, T. I. | 85 | Harle, H. B. | 57 | Reynolds, G. A. | 83 |
| Baker, J. R. | 79 | Harle, T. | 56 | Reynolds, G. H. | 76, 101 |
| Baker, James | 17 | Harper, R. | 45 | Reynolds, H. | 75 |
| Baker, John | 121 | Harper, T. S. | 14 | Reynolds, R. | 43 |
| Baldwin, J. | 58 | Harral, W. | 25 | Rhodes, F. | 83 |
| Balme, C. | 29 | Harris, H. C. | 128 | Rhodes, G. S. | 60 |
| Balme, G. | 20 | Harris, J. | 41 | Rhodes, H. T. | 71 |
| Banks, W. | 6 | Harris, J. K. | 128 | Rhodes, John | 24 |
| Bannister, C. | 67 | Harris, W. | 148 | Rhodes, Joseph | 75 |
| Bannister, E. W. | 151 | Harrison, A. | 25, 31 | Rhodes, T. E. | 55 |
| Bapty, G. F. W. | 142 | Harrison, C. | 74 | Rhodes, T. E.* | 177 |
| Barber, A. L. | 151 | Harrison, E. | 64 | Rhodes, W. | 61 |
| Barber, E. C. P. | 139 | Harrison, F. P. | 112 | Rice, W. H. | 87, 101 |
| Barber, E. P. | 171 | Harrison, Frank | 121 | Richardson, C. | 149 |
| Barber, F. | 158 | Harrison, Frederic | 36 | Richardson, C. B. | 169 |
| Barber, J. H. | 29 | Harrison, G. | 161 | Richardson, C. C. | 43 |
| Barber, J. L. | 133 | Harrison, G. F, | 20 | Richardson, C. T. | 120 |
| Barber, R. | 169 | Harrison, H. | 73 | Richardson, D. | 131 |
| Barber, R. D. | 144 | Harrison, H. B. | 155 | Richardson, D. C. | 164 |
| Barbour, — | 75 | Harrison, H. R. | 158 | Richardson, E. H. | 158 |
| Barbour, J. M. | 39 | Harrison, Herbert | 79 | Richardson, F. | 159 |
| Barbour, R. | 76 | Harrison, Herbert | 90 | Richardson, F. E. | 138 |
| Barbour, S. J. | 65 | Harrison, R. | 155 | Richardson, G. B. | 172 |
| Barbour, W. D. C. | 39 | Harrison, T. W. | 10 | Richardson, G. S. | 166 |
| Barham, W. F. | 8 | Harrison, Thomas | 34 | Richardson, H. | 159 |
| Barker, A. L. | 173 | Harrison, Thomas | 75 | Richardson, J. B. | 170 |
| Barker, C. | 40 | Harrison, W. C. | 129 | Richardson, J. H. | 172 |
| Barker, E. | 49 | Harrison, W. M. | 145 | Richardson, J. N. | 117 |
| Barker, G. | 49 | Harrison, W. P. | 76 | Richardson, J. W. | 137 |
| Barker, R. | 126 | Harrison, Wilbert | 64 | Richardson, James | 11 |
| Barker, T. C. | 40 | Harrison, William | 60 | Richardson, Joseph | 34 |
| Barker, T. D. | 51 | Harshaw, A. T. | 78 | Richardson, R. B. | 28 |
| Barker, W. H. | 152 | Harshaw, J. A. | 83 | Richardson, R. E. | 154 |
| Barker, W. H. | 169 | Harston, G. M. | 149 | Richardson, T. | 75 |
| Barling, A. S. | 123 | Harston, J. S. | 149 | Richardson, T. S. G. | 22 |
| Barling, F. H. | 105 | Hart, R. H. | 141 | Richardson, W. A. | 124 |
| Barling, I. C. | 123, 135 | Hart, T. | 75 | Richardson, William | 11 |
| Barlow, J. J. | 20 | Hart, W. E, | 138 | Richardson, William | 30 |
| Barlow, W. H. | 25 | Hartley, A. O. | 41 | Rickard, N. J. B. | 74 |
| Barmforth, J. | 54 | Hartley, B. | 166 | Rickards, Alfred | 92 |
| Barnard, Thomas | 3 | Hartley, E. | 121 | Rickards, Arthur | 59 |
| Barnard, Thomas | 4 | Hartley, J. E. | 75, 99 | Rickards, G. H. L. | 25 |
| Barnes, C. J. | 143 | Hartley, J. R. | 48 | Rickards, G. L. | 120 |
| Barnes, C. T. | 66 | Hartley, John | 19 | Rickards, J. | 24 |
| Barnes, F. | 75, 81, 85, 86 | Hartley, Joshua | 53 | Rickards, S. W. | 120 |
| Barnes, H. W. | 117 | Hartley, R. W. | 139 | Rickards, T. A. | 37 |
| Barnes, T. | 32 | Hartley, S. | 144 | Rider, F. K. | 124 |
| Barnes, W. A. | 148 | Hartley, W. H. | 76, 100 | Rider, J. | 48 |
| Barnes, W. H. | 85, 99 | Haswell, F. R. W. | 59 | Rider, T. | 52 |
| Barnsbee, E. | 40 | Hatch, C. W. | 134 | Ridpeth, E. V. | 52 |
| Barr, N. J. | 133 | Hatfield, E. | 100 | Ridpeth, T. H. | 52 |
| Barraclough, E. A. | 115 | Hatfield, J. | 74 | Ridsdale, G. H. | 43 |
| Barraclough, W. H. | 34 | Hatherley, A. W. | 128 | Ridsdale, J. | 43 |
| Barrand, W. | 48 | Hattersley, T. K. | 95 | Ridsdale, R. | 7 |
| Barras G. | 51 | Hattersly, R. C. | 27 | Riley, F. | 125 |
| Barras, J. | 48 | Hauptmann, A. H. | 172 | Riley, H. H. | 119 |
| Barras, R. T. | 22 | Hauptmann, R. B. | 171 | Riley, R. H. | 155 |
| Barrett, E. S. | 111 | Hawkesworth, A. | 86, 100 | Riley, Thomas | 53 |
| Barrett, H. | 78 | Hawkshaw, J. | 16 | Riley, Thomas | 170 |
| Barrett, M. | 71 | Hawksworth, J. | 20 | Rinder, J. | 20 |
| Barron, A. F. | 133 | Hawksworth, T. | 2 | Ripley, D. | 39 |
| Barrow, A. F. | 148 | Haworth, W. | 167 | Ripley, F. W. | 35 |
| Barrowby, J. | 13 | Hay, C. | 14 | Ripley, J. G. | 10 |
| Barrowclough, W. E. | 114 | Hay, J. | 48 | Ripley, L. | 7 |
| Barrows, W. | 137 | Hay, J. W. | 63 | Rishworth, P. | 167 |
| Barry, W. | 36 | Hayes, F. W. | 163 | Robb, H. V. | 88 |
| Barstow, J. S. | 84 | Hayes, H. H. | 14 | Roberts, B. | 74, 80 |
| Barstow, T. W. | 105 | Hayward, P. B. | 69 | Roberts, C. | 43 |
| Barton, H. | 128 | Headland, — | 70 | Roberts, D. | 149 |
| Barwick, J. M. | 94 | Headland, W. | 93 | Roberts, E. | 117 |
| Bassett, W. | 27 | Headland, W. C. | 82 | Roberts, H. | 138 |
| Batchelor, E. H. | 133 | Heald, G. F. | 171 | Roberts, H. W. | 71 |
| Bates, A. | 58 | Heald, H. M. | 169 | Roberts, H. W. | 174 |
| Bates, G. | 58 | Heald, J. R. | 174 | Roberts, J. E. | 168 |
| Bates, G. F. | 78 | Heald, S. L. | 55 | Roberts, J. E.* | 178 |
| Bates, J. W. | 102 | Heald, S. L. | 161 | Roberts, J. H. | 122 |
| Bateson, H. | 49 | Heald, W. G. | 174 | Roberts, J. S. | 76 |
| Battle, A. A. | 158 | Heaps, — | 73 | Roberts, J. S. | 138 |
| Battle, H. E. | 166 | Heaps, A. | 103 | Roberts, John | 22 |
| Battle, S. | 158 | Heaps, C. | 103 | Roberts, John | 29 |
| Batty, J. | 2 | Heaps, C. D. | 94 | Roberts, John | 127 |
| Battye, A. | 31 | Heaps, G. | 78 | Roberts, T. J. | 92 |
| Battye, J. | 20 | Heaps, J. W. | 94 | Roberts, V. | 137 |
| Battye, W. H. | 40, 48 | Heaton, E. G. | 50 | Roberts, W. | 138 |
| Baxter, B. | 44 | Heaton, F. R. | 136 | Roberts, W. W. | 76 |
| Baxter, J. P. | 75 | Heaton, J. | 149 | Robinson, A. | 67 |
| Baxter, J. P. | 80 | Heaton, J. A. | 43 | Robinson, A. W. | 153 |
| Bayldon, A. A. D. | 125 | Heaton, J. D. | 25 | Robinson, B. L. H. | 113 |
| Bayldon, C. D. | 111 | Heaton, W. C. | 76 | Robinson, C. B. | 175 |
| Bayne, C. | 24 | Heaton, W. H. | 52 | Robinson, C. C. | 58 |
| Bayne, W. | 20 | Hebblethwaite, A. M. | 96 | Robinson, C. H. | 48 |
| Baynes, J. | 18 | Hebblethwaite, E. P. | 109 | Robinson, Charles | 41 |
| Bealey, S. | 30 | Hebblethwaite, J. W. | 81 | Robinson, Clarence | 92 |
| Bean, J. | 13 | Hebblethwaite, P. C. | 112 | Robinson, E. | 119 |
| Beard, F. | 145 | Hebblethwaite, R. | 125 | Robinson, E. S. | 160 |
| Beardshaw, C. H. | 82 | Hebblethwaite, R. M. | 118 | Robinson, F. | 161 |
| Bearpark, G. E. | 109 | Hebblethwaite, S. M. | 121 | Robinson, F. E. | 75, 78 |
| Beaumont, C. | 31 | Hebblethwaite, W. J. | 96 | Robinson, F. W. | 139 |
| Beaumont, F. | 37 | Heberden, H. V. | 141 | Robinson, G. A. H. | 69 |
| Beaumont, J. | 18 | Heberden, R. C. | 143 | Robinson, George | 23 |
| Beaumont, J. R. | 57 | Heberden, W. S. | 143 | Robinson, George | 65, 68 |
| Beaumont, T. A. | 29 | Heeles, E. L. | 76 | Robinson, H. W. | 150 |
| Beckett, John | 6 | Heeles, M. | 88 | Robinson, Henry | 1 |
| Beckett, John* | 176 | Heginbotham, W. H. | 11 | Robinson, Henry | 45 |
| Beckwith, C. H. | 61 | Heigham, H. P. | 167 | Robinson, I. | 16 |
| Beckwith, F. | 46 | Heigham, T. W. J. | 160 | Robinson, J. A. | 175 |
| Beckwith, W. | 46 | Hemingway, — | 73 | Robinson, J. H. | 102 |
| Beckwith, W. | 61 | Hemingway, H. | 91 | Robinson, J. H. | 113 |
| Beckwith, W. T. | 75 | Hemsworth, — | 75 | Robinson, J. K. | 74 |
| Beckworth, J. H. | 58 | Henderson, C. | 126 | Robinson, J. R. | 111 |
| Bedford, C. | 102 | Henderson, D. | 92 | Robinson, J. W. | 66, 68 |
| Bedford, F. W. | 35 | Henderson, F. R. G. | 92 | Robinson, James | 30 |
| Bedford, H. W. | 95 | Henderson, H. E. | 127 | Robinson, James | 31 |
| Bedford, James | 36 | Henderson, H. K. | 163 | Robinson, John | 10 |
| Bedford, John | 88 | Henderson, J. A. | 50 | Robinson, John | 30 |
| Bedford. H. S. | 57 | Henderson, J. D. | 104 | Robinson, John | 41 |
| Beedle, W. | 57 | Henderson, P. D. | 114 | Robinson, John | 75 |
| Beer, F. | 73 | Henderson, R. A. | 111 | Robinson, Joseph | 159 |
| Beer, G. | 73 | Henderson, R. A. | 140 | Robinson, R. C. | 92 |
| Beeson, W. H. | 43 | Henderson, T. | 50 | Robinson, R. T. O. | 166 |
| Beetham, A. | 119 | Henderson, W. | 125 | Robinson, R. W. | 146 |
| Beetham, C. | 108 | Hepher, C. | 149 | Robinson, S. G. | 159 |
| Beetham, W. | 108 | Hepper, E. H. | 132 | Robinson, Thomas | 54 |
| Beevers, C. H. | 159 | Hepper, F. W. | 26 | Robinson, Thomas | 97 |
| Beevers, D. | 152 | Hepper, G. H. | 133 | Robinson, W. | 104 |
| Beevers, E. S. | 60 | Hepper, J. S. | 132 | Robinson, W. H. | 50 |
| Beevers, J. G. | 159 | Hepper, W. S. | 132 | Robinson, W. H. | 123 |
| Beevers, J. H. | 57 | Hepworth, A. | 55 | Robinson, W. J. | 153 |
| Bell, A. W. | 148 | Hepworth, C. | 175 | Robinson, W. S. | 170 |
| Bell, Alexander | 39 | Hepworth, F. W. | 28 | Robinson, W. W. | 58 |
| Bell, Alfred | 55 | Hepworth, F. W. | 169 | Robson, J. | 66 |
| Bell, C. C. | 152 | Hepworth, H. M. | 154 | Robson, T. | 66 |
| Bell, G. | 145 | Hepworth, H. M. | 168 | Rockitt, H. | 150 |
| Bell, T. P. | 75 | Hepworth, J. | 54 | Rodham, J. | 16 |
| Bell, W. A. | 39 | Hepworth, M. | 158 | Rodwell, F. | 53 |
| Bell, W. H. | 52 | Hepworth, N. | 175 | Roebuck, I. | 22 |
| Bellhouse, J. | 33 | Hepworth, W. | 53 | Roebuck, J. | 22 |
| Bellhouse, W. | 30 | Hepworth, W. P. | 75 | Roebuck, W. | 17 |
| Bellhouse, W. C. | 14 | Herapath, W. G. | 144 | Rogers, G. | 33 |
| Bellhouse, W. S. | 114 | Heron, C. B. | 75 | Rogers, H. | 89 |
| Benson, W. P. | 54 | Heron, J. | 75 | Rogers, T. | 5 |
| Bent, J. | 86 | Heron, T. | 93 | Rogerson, H. | 31 |
| Bentley, — | 95 | Heselton, J. | 15 | Rogerson, Thomas | 23 |
| Bentley, A. | 88 | Hess, A. F. | 171 | Rogerson, Thomas | 26 |
| Bentley, E. | 75 | Hetherington, J. | 33 | Roice, J. | 18 |
| Bentley, William | 82, 83 | Hewetson, A. | 170 | Rooke, — | 37 |
| Bentley, William | 102 | Hewetson, H. B. | 97 | Rooke, C. S. | 48 |
| Benton, R. | 46 | Hewetson, H. B. | 155 | Rooke, C. S.* | 177 |
| Bergheim, M. | 157 | Hewetson, J. A. | 97 | Rooke, R. L. | 32 |
| Bergheim. C. | 158 | Hewetson, R. | 119 | Rooke, R. L.* | 176 |
| Berkenhout, J. | 3 | Hewetson, R. R. | 167 | Rose, C. | 54 |
| Berrie, A. | 91 | Hewetson, W. | 97 | Ross, C. T. | 174 |
| Berrie, G. B. | 116 | Hewitt, C. W. | 47 | Ross, H. | 174 |
| Berrie, R. M. | 83 | Hewson, C. T. | 74 | Rothery, R. | 12 |
| Berrie, Richard | 75, 83 | Hewson, C. T. | 80 | Rothery, T. | 133 |
| Berrie, Robert | 75 | Hewson, W. H. | 97 | Rothery, W. | 47 |
| Berrie, William | 89 | Hey, John | 4 | Rothery, W. M. | 56 |
| Berry, J. W. | 110 | Hey, John | 6 | Rothery, W. U. | 133 |
| Berry, R. O. | 74 | Hey, John | 43 | Rowe, R. H. | 172 |
| Berry, T. | 31 | Hey, Richard | 4 | Rowell, J. G. | 135 |
| Best, J. W. | 30 | Hey, Richard | 9 | Rowling, F. | 141 |
| Best, T. H. D. | 115 | Hey, Robert | 7 | Rowling, S. T. | 164 |
| Best, W. W. | 82 | Hey, Samuel | 4 | Rowsell, J. H. | 69 |
| Best. B. | 35 | Hey, Samuel | 9 | Royce, F. | 27 |
| Best. W. H. | 166 | Hey, W. | 43 | Royce, W. | 20 |
| Bettany, F. G. | 137 | Heycock, C. F. | 56 | Royle, V. | 130 |
| Bettany, F. G.* | 177 | Heycock, J. W. | 56 | Royston, L. K. | 19 |
| Bettany, T. E. | 146 | Heys, H. A. | 144 | Royston, T. | 19 |
| Bettany, W. A. L. | 146 | Hick, B. | 22 | Ruddock, E. H. | 69 |
| Betts, E. | 108 | Hick, E. | 70 | Ruddock, G. A. | 98 |
| Beverley, B. | 42 | Hick, G. | 70 | Ruddock, W. | 70 |
| Beverley, W. H. | 105 | Hick, H. | 130 | Rudilock, W. | 17 |
| Bewley, T. | 13 | Hick, Richard | 9 | Rump, A. | 172 |
| Bickle, R. W. | 119 | Hick, Richard* | 176 | Rusby, A. | 59 |
| Billington, O. | 79 | Hick, Robert | 18 | Rusby, R. W. | 131 |
| Billington, W. O. | 84 | Hick, W. L. | 166 | Rusby, S. | 54 |
| Bingham. H. | 118 | Hicks, G. R. | 54 | Rusby, S. S. | 8 |
| Bingley, F. E. | 17 | Hicks, H. | 47 | Rusby, T. | 41 |
| Binks, S. | 120 | Hicks, J. | 26 | Rusby. J. | 41 |
| Binks, W. | 134 | Hicks, S. | 147 | Rushworth, C. | 102 |
| Binney, E. | 44 | Hicks, W. | 27 | Rushworth, C. B. | 11 |
| Binney, R. | 44 | Hield, H. A. | 168 | Russell, H. L. | 61 |
| Binns, A. | 38 | Higgins, A. | 52 | Russell, John | 26 |
| Binns, G. | 35 | Higgins, W. | 134 | Russell, Joseph | 18 |
| Binns, H. W. | 139 | Hill, A. | 87 | Russell, William | 34 |
| Binns, Henry | 88 | Hill, C. B. | 102 | Russell, William | 61 |
| Binns, Herbert | 139 | Hill, C. E. | 53 | Russum, W. G. | 76 |
| Binns, L. | 102 | Hill, E. E. | 156 | Ryder, F. J. | 135 |
| Binns, W. | 102 | Hill, E. G. | 149 | Saalfield, — | 70 |
| Binns, William | 51 | Hill, F. C. | 52 | Saalfield, A. | 86 |
| Binns. J. | 104 | Hill, G. E. | 80 | Saalfield, R. | 86 |
| Binny, T. | 46 | Hill, J. | 2 | Sadler, A. | 17 |
| Binny. G. W. | 58 | Hill, J. H. | 9 | Sadler, H. W. | 171 |
| Birdsell, B. | 170 | Hill, J. W. | 50 | Sadler, J. | 11 |
| Birdsell, C. | 170 | Hill, R. H. | 133 | Sadler, R. E. | 43 |
| Birdsell, G. | 165 | Hill, S. H. | 165 | Sadler, Ralph | 131 |
| Birdsell, H. | 170 | Hillas, J. | 101 | Sadler, Robert | 50 |
| Birdsell, J. | 164 | Hilton, J. H. | 71 | Sagar-Musgrave, R. M. | 151 |
| Birdsell, J. W. | 167 | Hinchliffe, W. | 18 | Sales, H. H. | 114 |
| Birkhead, C. | 46 | Hincks, J. F. | 70 | Sales, J. | 2 |
| Birmingham, J. | 59 | Hincks, W. | 70 | Salter, A. E. | 133 |
| Birtson, W. | 53 | Hind, E. | 14 | Salts, L. N. | 157 |
| Black, J. | 11 | Hind, J. | 75 | Salts, R. B. | 132 |
| Blackburn, A. W. | 65 | Hinde, — | 73 | Sanderson, B. | 50 |
| Blackburn, B. | 63 | Hinde, W. A. | 168 | Sanderson, C. | 174 |
| Blackburn, G. | 15 | Hinings, J. W. | 115 | Sanderson, D. W. | 137 |
| Blackburn, J. | 26 | Hinscliff, C. | 162 | Sanderson, G. | 172 |
| Blackburn, J. W. V. | 41 | Hinscliff, J. | 45 | Sanderson, H. | 162 |
| Blackburn, S. W. | 79 | Hinscliff, W. | 45 | Sanderson, J. L. | 137 |
| Blackburn, T. | 72, 73 | Hird, F. | 115 | Sanderson, P. H. | 166 |
| Blackburn, W. | 49 | Hird, G. F. | 112 | Sanderson, W. | 67 |
| Blackburn, W. F. | 53 | Hird, W. S. | 115 | Sanderson, W. B. | 37 |
| Blackburn, W. S. | 69 | Hirsch, C. | 161 | Sands, W. | 102 |
| Blake, C. | 17 | Hirsch, H. | 149 | Sands, William | 110 |
| Blake, H. C. | 17 | Hirst, A. | 86, 100 | Sangster, Charles | 25 |
| Blakeborough, A. | 88 | Hirst, B. | 100 | Sangster, Charles | 89 |
| Blakeborough, A. | 135 | Hirst, B. A. | 76 | Sangster, J. W. | 43, 54 |
| Blakelock, R. | 67 | Hirst, C. W. | 131 | Saunderson, J. | 2 |
| Blakey, — | 73 | Hirst, Charles | 20 | Savage, C. | 174 |
| Blakey, F. S. | 152 | Hirst, Charles | 29 | Saville, B. J. | 11 |
| Blakey, J. | 37, 46 | Hirst, Clement | 103 | Savory, H. | 124 |
| Bland, C. E. | 58 | Hirst, E. P. | 144 | Sawday, H. B. | 171 |
| Bland, E. B. | 102 | Hirst, G. W. | 97 | Sawday, T. T. | 171 |
| Bland, H. A. | 102 | Hirst, G. W. | 139 | Saxton, J. | 49 |
| Bland, R. | 44 | Hirst, George | 24 | Saxton, P. | 1 |
| Bland, W. H. | 44, 54 | Hirst, George | 24 | Scarth, A. | 157 |
| Blanshard, H. E. | 78 | Hirst, George | 57 | Scarth, H. | 61 |
| Bleasby, E. | 37 | Hirst, H. E. | 86 | Scarth, J. | 59 |
| Blenkin, T. J. | 9 | Hirst, H. H. | 115 | Scarth, J. W. | 56 |
| Blomefield, A. M. N. | 98 | Hirst, J. A. | 18 | Scarth, R. G. | 58 |
| Blomefield, J. D. A. | 90 | Hirst, J. G. | 79 | Scarth, T. | 81 |
| Bloome, A. P. | 63 | Hirst, L. | 78 | Scarth, W. G. | 127 |
| Bloomfield, E. W. | 94 | Hirst, N. | 131 | Scarth, W. W. | 126 |
| Blythe, W. | 33 | Hirst, R. J. | 130 | Scatcherd, W. | 30 |
| Boddy, J. H. | 88 | Hirst, T. | 11 | Scattergood, A. K. | 107 |
| Boggs, C. W. S. | 158 | Hirst, T.* | 176 | Scattergood, B. P. | 119 |
| Bolland, — | 5 | Hirst, W. | 55 | Scattergood, O. | 107 |
| Bolland, A. | 49 | Hirst, W. T. A. | 47 | Schmitz, C. C. | 124 |
| Bolland, F. | 16 | Hobson, A. | 65 | Schofield, D. D. | 170 |
| Bolland, J. B. | 126 | Hobson, A. J. | 74 | Schofield, J. | 31 |
| Bolland, W. C. | 114 | Hobson, C. | 37 | Schofield, J. D. | 47 |
| Bolland, W. T. | 126 | Hobson, G. H. | 12 | Schofield, L. | 167 |
| Bolland, William | 7 | Hobson, G. W. | 63 | Schofield, W. | 20 |
| Bolland, William | 56 | Hobson, J. D. | 47 | Schofield, W. P. | 168 |
| Bolton, G. W. | 128 | Hobson, J. H. | 63 | Scholefield, C. E. | 97 |
| Bolton, John | 39 | Hobson, John | 85 | Scholefield, F. H. | 108 |
| Bolton, John | 135 | Hobson, John | 12 | Scholefield, F. H. | 111 |
| Bolton, P. T. | 172 | Hobson, R. | 57 | Scholefield, G. A. | 110 |
| Bolton, R. C. | 174 | Hobson, S. | 56 | Scholefield, G. W. | 88 |
| Booker, C. E. | 36 | Hobson, T. | 43 | Scholefield, J. | 6 |
| Booker, C. F. | 32 | Hobson, W. | 41 | Scholefield, R. E. | 127 |
| Booker, J. | 31, 38 | Hodgson, C. E. | 76 | Scholefield, R. W. | 74, 80 |
| Booker, R. A. | 31 | Hodgson, Charles | 7 | Scholefield, W. H. | 75, 80 |
| Booker, S. B. | 31 | Hodgson, Christopher | 26 | Scholes, A. E. | 138 |
| Booker, S. B.* | 176 | Hodgson, G. H. | 149 | Scholes, E. F. P. | 133 |
| Booker, W. | 36 | Hodgson, J. W. | 29 | Scholes, H. | 60 |
| Booker, W. H. | 32 | Hodgson, J. W. | 47 | Scholey, D. | 15 |
| Booth, A. | 156 | Hodgson, J. W. | 74 | Schroeder, A. J. P. | 38 |
| Booth, B. B. | 35 | Hodgson, J. W. | 76 | Schroeder, H. S. | 38 |
| Booth, G. R. H. | 150 | Hodgson, Richard | 23 | Scott, A. R. | 106 |
| Booth, John | 23 | Hodgson, Robert | 13 | Scott, C. | 45 |
| Booth, Jonathan | 64 | Hodgson, W. | 13 | Scott, C. W. | 112 |
| Booth, Joseph | 33 | Hodgson, W. C. | 142 | Scott, F. | 45 |
| Booth, L. G. | 152 | Hodson, C. | 2 | Scott, G. R. S. | 122 |
| Booth, T. S. | 79 | Hodson, F. A. | 125 | Scott, H. E. | 122 |
| Bostock, F. | 172 | Hodson, F. A.* | 177 | Scott, J. | 105 |
| Boston, G. W. | 150 | Hodson, G. H. E. | 138 | Scott, J.* | 178 |
| Boston, J. I. | 150 | Hodson, J. S. | 112 | Scott, John | 103 |
| Boston, R. H. | 150 | Hodson, M. S. | 152 | Scott, John | 160 |
| Bothamley, C. H. | 122 | Hogg, A. W. | 133 | Scott, N. O. | 109 |
| Bothamley, T. | 122 | Hogg, E. G. | 133 | Scott, S. H. | 106 |
| Botterill, F. | 86, 99 | Hogg, F. B. R. | 100 | Scott, Samuel | 42 |
| Boultbee, H. E. | 132 | Hogg, J. T. | 42 | Scott, Samuel | 120 |
| Boultbee, H. T. | 105 | Hogg, James | 61 | Scott, T. A. | 163 |
| Boultbee, J. W. | 105 | Hogg, Joseph | 25 | Scott, William | 35 |
| Boultbee, W. E. | 105 | Hogg, T. | 64 | Scott, William | 132 |
| Bousfield, H. D. | 150 | Hogg, W. | 25 | Scriven, A. | 131 |
| Bousfield, W. L. | 137 | Holdsworth, S. | 15 | Scriven, C. | 147 |
| Bower, E. D. | 109 | Holdsworth, T. | 89 | Scriven, E. C. | 147 |
| Bower, J. | 30 | Holford, A. B. | 51 | Scriven, H. | 147 |
| Bowers, T. S. | 38 | Holford, G. — | 51 | Scupham, W. | 126 |
| Bowes, W. S. | 31 | Holford, G. P. | 147 | Seaman, D. | 37 |
| Bowes, W. V. | 32 | Holford, W. | 51 | Seaman, I. | 37 |
| Bowling, J. P. | 104 | Holland, W. | 15 | Searls, P. L. | 161 |
| Bowling, J. W. | 125 | Holland, W. H. | 171 | Seaton, A. A. | 174 |
| Bowling, W. | 156 | Holliday, H. | 163 | Seaton, D. | 135 |
| Bowman, C. | 121 | Holliday, J. | 13 | Seaton, E. A. | 107 |
| Bowman, G. | 113 | Hollings, T. | 13 | Seaton, H. | 107 |
| Bowman, M. | 113 | Hollingsworth, J. H. | 159 | Seaton, H. J. A. | 174 |
| Bownas, W. K. W. | 11 | Hollingworth, J. | 56 | Seaton, J. B. | 129 |
| Boyne, R. | 12 | Hollyday, J. | 22 | Sedgwick, R. | 30 |
| Boynton, S. | 2 | Holmes, A. T. | 109 | Sedgwick, R. J. H. | 36 |
| Bracewell, J. | 54 | Holmes, C. R. | 32 | Selfe, C. H. S. | 163 |
| Bradbury, W. | 35 | Holmes, D. | 14 | Sellers, W. P. | 65 |
| Bradley, E. R. | 155 | Holmes, E. W. | 42 | Senior, H. | 88 |
| Bradley, F. | 17 | Holmes, F. G. | 34 | Senior, J. | 45 |
| Bradley, J. M. | 32 | Holmes, G. G. | 28 | Settle, J. W. | 131 |
| Bradley, W. | 67 | Holmes, H. | 50 | Settle, Joseph | 11 |
| Bradshaw, F. | 167 | Holmes, J. G. | 111 | Settle, Joseph | 49 |
| Braim, T. P. | 124 | Holmes, J. W. | 32 | Sewell, H. B. | 104 |
| Braithwaite, A. L. | 130 | Holmes, John | 19 | Shackleton, A. | 79 |
| Braithwaite, E. B. | 70 | Holmes, John | 161 | Shackleton, H. A. A. | 161 |
| Braithwaite, E. W. | 175 | Holmes, Joseph | 26 | Shackleton, J. | 43 |
| Braithwaite, H. | 108 | Holmes, Joseph | 106 | Shackleton, M. | 56 |
| Braithwaite, O. L. | 173 | Holmes, Joseph* | 176 | Shackleton, R. | 101 |
| Braithwaite, R. | 69 | Holmes, Josephus | 11 | Shackleton, R. W. | 76 |
| Braithwaite, R. W. | 130 | Holmes, M. W. | 161 | Shackleton, S. | 48 |
| Brameld, T. H. | 104 | Holmes, O. H. | 161 | Shackleton, W. | 93 |
| Brameld, W. A. | 104 | Holroyd W. | 14 | Shackleton, W. C. | 34 |
| Brameld, W. A.* | 177 | Holroyd, B. H. | 168 | Shacklock, W. | 26 |
| Bramley, T. | 44 | Holroyd, C. | 120 | Shann, J. | 50 |
| Bramley, W. | 44 | Holroyd, C. W. | 90 | Shann, S. | 43 |
| Bramma, H. | 58 | Holroyd, G. A. | 123 | Shann, W. | 43 |
| Bray, J. | 15 | Holroyd, G. F. | 23 | Shapley, E. | 145 |
| Bray, J. E. | 93 | Holroyd, Henry | 12 | Shapley, R. E. | 141 |
| Brayshaw, T. | 15 | Holroyd, Henry | 47 | Sharp, H. | 57 |
| Brayshay, G. H. | 171 | Holroyd, Henry | 168 | Sharp, John | 3 |
| Brayshay, W. B. | 171 | Holroyd, P. | 135 | Sharp, John | 23 |
| Breacher, M. R. | 22 | Holroyd, S. | 14 | Sharp, R. | 136 |
| Breen, D. | 57 | Holt, C. | 60 | Sharp, T. | 3 |
| Brigg, W. | 118 | Holt, H. | 60 | Sharp, W. | 24 |
| Briggs, A. | 74 | Holt, H. P. | 92 | Sharpe, F. | 9 |
| Briggs, A. T. | 65 | Holt, J. A. | 135 | Sharpe, J. | 5 |
| Briggs, F. | 167 | Holt, James | 47 | Sharpe, N. | 10 |
| Briggs, F. D. | 122 | Holt, Joshua | 134 | Shaw, — | 73 |
| Briggs, H. J. | 151 | Holton, — | 73 | Shaw, A. C. | 52 |
| Briggs, J. | 104 | Holton, G. C. | 75 | Shaw, A. E. | 117 |
| Briggs, R. | 104 | Holtord, F. T. | 147 | Shaw, B. | 67 |
| Briggs, R. T. | 76, 99 | Holyday, C. W. | 90 | Shaw, C. P. | 175 |
| Briggs, S. | 26 | Holyday, W. | 28 | Shaw, F. M. | 175 |
| Briggs, Thomas | 20 | Home, J. | 64 | Shaw, H. | 116 |
| Briggs, Thomas | 132 | Hood, B. M. | 74 | Shaw, James | 14 |
| Briggs, W. H. | 33 | Hood, D. K. | 39 | Shaw, John | 44 |
| Briggs, W. T. | 65 | Hood, H. | 43 | Shaw, Joseph | 15 |
| Britten, G. B. | 161 | Hook, W. | 159 | Shaw, L. | 87 |
| Brittlebank, J. W. F. | 165 | Hope, J. F. | 34 | Shaw, W. | 11 |
| Britton, A. | 90 | Hope, R. | 33 | Sheepshanks, J. | 6 |
| Broadbent, C. | 105 | Hope, T. A. | 45 | Sheepshanks, T. | 23 |
| Broadbent, J. P. | 126 | Hopkins, J. W. | 123 | Shephard, M. | 109 |
| Broadbent, W. | 44 | Hopkins, R. N. | 94 | Shepherd, G. | 83 |
| Broadhead, J. C. | 110 | Hopkinson, C. | 59 | Shepherd, T. | 131 |
| Broadhead, James | 38 | Hopkinson, T. | 36 | Sherwood, T. | 20 |
| Broadhead, Joseph | 60 | Hopps, Charles | 55 | Shields, T. T. | 49 |
| Broadhead, W. | 63 | Hopps, Charles | 160 | Shillito, E. | 74 |
| Brock, W. | 85 | Hopps, W. P. | 33 | Shillito, F. P. | 168 |
| Brocklehurst, W. S. | 81 | Hopwood, W. | 8 | Shillito, G. H. S. | 167 |
| Brocklehurst, W. T. | 80 | Horn, A. E. | 157 | Shillito, R. B. | 56 |
| Bromley, B. | 49 | Horne, G. | 89 | Shires, — | 73 |
| Brook, A. | 49 | Horne, J. F. | 86, 100 | Shires, W. H. | 61 |
| Brook, C. L. | 108 | Horne, J. F.* | 177 | Shute, A. | 111 |
| Brook, E. | 27 | Horne, W. F. L. | 85 | Shute, J. B. | 120 |
| Brook, John | 33 | Horner, J. | 19 | Shute, T. H. | 120 |
| Brook, John | 49 | Horseman, R. | 54 | Siddons, J. | 12 |
| Brook, S. | 27 | Horsfall, H. J. | 48 | Sidgwick, R. | 84 |
| Brook, W. | 27 | Horsfall, J. E. | 48 | Sikes, T. | 9 |
| Brook, W. P. | 42 | Horsfall, John | 62 | Simms, A. | 104 |
| Brooke, A. G. W. | 142 | Horsfall, Joseph | 76, 100 | Simms, Frederic | 49 |
| Brooke, C. E. | 114 | Horsfall, M. R. | 71 | Simms, Frederick | 75 |
| Brooke, G. | 19 | Horsfall, T. H. | 65 | Simms, H. | 95 |
| Brooke, G. W. | 161 | Horsfall, W. H. | 62 | Simms, T. | 75 |
| Brooke, J. A. | 114 | Horsfield, A. G. | 175 | Simms, T. W. | 146 |
| Brooke, John | 32 | Horsfield, C. | 173 | Simms, W. | 73, 80 |
| Brooke, Joseph | 19 | Horsfield, E. | 108 | Simon, J. H. | 91 |
| Brooke, Joshua | 4 | Horsfield, F. | 126 | Simpson, Charles | 19 |
| Brooke, R. | 18 | Horsfield, G. | 173 | Simpson, Charles | 166 |
| Brookfield, W. H. | 16 | Horsfield, H. K. | 111 | Simpson, George | 88 |
| Brookfield, W. H.* | 176 | Horsfield, R. M. | 111 | Simpson, Gilbert | 140 |
| Broomhead, J. | 75, 81, 99 | Horsfield, R. M. | 169 | Simpson, H. | 45 |
| Broscombe, T. | 54 | Horsfield, W. | 28 | Simpson, H. J. G. | 105 |
| Broughton, A. W. | 126 | Horsley, M. | 144 | Simpson, J. | 124 |
| Broughton, Alex. | 86, 99 | Horsley, W. | 144 | Simpson, J. J. | 122 |
| Broughton, Alfred | 53 | Horsman, John | 11 | Simpson, R. | 53 |
| Broughton, Alfred | 87, 106 | Horsman, John | 75 | Simpson, T. A. | 171 |
| Brown, A. | 19 | Horsman, T. O'H. | 112 | Simpson, T. H. | 45 |
| Brown, A. E. | 175, 168 | Horton, J. E. | 88 | Simpson, W. | 26 |
| Brown, A. R. | 126 | Horton, R. | 41 | Simpson, W. H. | 45 |
| Brown, C. E. | 163 | Horton, W. | 68 | Sinery, C. J. C. | 54 |
| Brown, C. H. | 35 | Houlgate, W. | 30 | Singleton, H. | 111 |
| Brown, C. M. | 94 | Howard, H. S. | 142 | Singleton, I. | 50 |
| Brown, Charles | 51 | Howard, S. | 16 | Singleton, J. | 52 |
| Brown, Christopher | 17 | Howarth, W. L. | 28, 30 | Singleton, V. H. | 158 |
| Brown, E. | 12 | Howden, J. | 71 | Sisson, J. L. | 7 |
| Brown, F. | 170 | Howe, W. E. | 35 | Sisson, T. | 5 |
| Brown, F. R. F. | 83 | Howgate, F. | 133 | Skelton, H. C. | 146 |
| Brown, F. W. | 90 | Howie, N. | 167 | Skelton, S. | 47 |
| Brown, F. W. | 134 | Howitt, J. H. | 43 | Skilbeck, G. | 12 |
| Brown, F. W. | 152 | Howitt, T. B. | 45 | Slade. W. | 33 |
| Brown, G. | 15 | Hubbersty, R. C. | 27 | Slater, — | 73 |
| Brown, G. E. | 150 | Hubie, W. G. | 77 | Slater, C. H. | 109 |
| Brown, G. T. | 51 | Hudson, A. B. | 162 | Slater, C. S. | 120 |
| Brown, H. C. | 173 | Hudson, C. E. | 156 | Slater, F. O. | 173 |
| Brown, H. E. | 122 | Hudson, F. | 160 | Slater, G. | 66 |
| Brown, H. R. | 159 | Hudson, G. | 65 | Slater, Harold | 129 |
| Brown, H. R. | 168 | Hudson, H. | 135 | Slater, Herbert | 128 |
| Brown, Harry | 123 | Hudson, H. H. | 170 | Slater, J. A. | 110 |
| Brown, Herbert | 155 | Hudson, H. V. | 162 | Slater, J. G. | 12 |
| Brown, J. | 134 | Hudson, J. A. | 57 | Slater, M. | 19 |
| Brown, J. D. | 96 | Hudson, J. G. | 63 | Slater, P. M. | 128 |
| Brown, J. H. | 96 | Hudson, J. W. | 154 | Slater, T. M. | 66 |
| Brown, J. L. | 9 | Hudson, James | 68 | Slater, T. O. | 172 |
| Brown, J. L. | 51 | Hudson, James F. | 147 | Sloman, A. | 147 |
| Brown, J. L. | 143 | Hudson, John | 32 | Sloman, E. | 142 |
| Brown, L. E. | 124 | Hudson, John | 64 | Sloman, S. | 155 |
| Brown, M. | 14 | Hudson, John F. | 147 | Smailes, J. R. | 142 |
| Brown, N. B. R. | 173 | Hudson, R. | 68 | Smallpage, B. | 66 |
| Brown, R. A. | 14 | Huggon, — | 73 | Smallpage, H. T. | 131 |
| Brown, R. F. | 83 | Hughes, D. | 37 | Smallpage, P. M. | 128 |
| Brown, Richard | 12 | Hughes, N. I. P. | 171 | Smeaton, J. | 3 |
| Brown, Thomas | 19 | Hughes, T. J. | 42 | Smeeton, A. | 74 |
| Brown, Tom | 64 | Hulme, S. J. | 80 | Smeeton, C. | 74 |
| Brown, W. | 76 | Humble, F. | 117 | Smeeton, C. W. | 130, 149 |
| Brown, W. H. | 108 | Hunt, G. H. | 63 | Smeeton, E. E. | 157 |
| Brown, W. R. | 64 | Hunt, J. H. | 122 | Smeeton, W. | 47 |
| Brown, W. R. | 171 | Hunt, R. W. | 47 | Smiles, — | 73 |
| Brown. Robert | 67 | Huntriss, E. | 89 | Smith, A. E. | 131 |
| Brownbill, J. | 22 | Huntriss, W. | 89 | Smith, A. E. | 149 |
| Browne, F. D. | 158 | Hurst, G. E. | 103 | Smith, A. H. | 160 |
| Browne, W. T. | 88 | Huscroft, T. H. | 54 | Smith, A. P. | 163 |
| Brownlow, G. | 52 | Huson, J. W. | 39 | Smith, A. W. | 8 |
| Brownton, R. | 21 | Hustler, E. A. | 135 | Smith, A. W. | 143 |
| Browridge, W, T. | 48 | Hustler, N. | 41 | Smith, Abraham | 47 |
| Brunt, J. | 76, 99 | Hutchinson, A. | 89 | Smith, Abraham* | 177 |
| Brunton, R. | 29 | Hutchinson, C. A. | 86, 100 | Smith, Arthur | 58 |
| Brunton,W. | 40 | Hutchinson, H. M. | 150 | Smith, B. | 147 |
| Buck, C. J. | 78 | Hutchinson, J. | 69 | Smith, C. L. | 129 |
| Buckley, A. | 32 | Hutchinson, R. | 64 | Smith, C. S. | 39 |
| Buckley, W. | 19 | Hutchinson, W. | 55 | Smith, C. T. | 173 |
| Buckton, A. | 153 | Hutton, A. E. | 156 | Smith, E. | 36 |
| Buckton, W. | 92 | Hutton, J. | 9 | Smith, E. A. H. | 136 |
| Bullivant, C. C. | 125 | Hutton, S. | 166 | Smith, E. B. | 166 |
| Bullivant, R. | 114 | Hutton, W. | 67 | Smith, E. C. | 149 |
| Bulmer, A. T. | 111 | Huxley, G. | 133 | Smith, F. W. | 153 |
| Bulmer, C. C. | 85, 90 | Huxley, S. | 141 | Smith, Frank | 139 |
| Bulmer, F. W. | 44 | Huxley, W. | 133 | Smith, Frederick | 31, 38 |
| Bulmer, G. B. | 91 | Hyde, E. | 64 | Smith, G. H. | 175 |
| Bulmer, H. | 51 | Hyde, H. E. | 53 | Smith, G. P. | 19, 29 |
| Bulmer, J. A. | 71 | Hyde, H. E.* | 177 | Smith, George | 25 |
| Bulmer, W. | 6 | Hyde, H. V. | 142 | Smith, George | 52 |
| Bumby, J. | 74 | Ibbetson, W. | 24 | Smith, H. A. | 76, 85 |
| Burgess, J. | 18 | Ibbitson, C. T. | 75 | Smith, H. J. | 173 |
| Burgon, B. | 52 | Ibbitson, H. W. | 175 | Smith, H. S. | 135, 153 |
| Burgon, B. W. | 162 | Ibbitson, J. W. | 141 | Smith, H. U. | 77 |
| Burgon, H. | 162 | Ibbitson, W. A. | 138 | Smith, H. W. R. | 90 |
| Burkill, C. | 79 | Idle, J. H. | 70 | Smith, I. | 2 |
| Burnand, W. | 116 | Illingworth, A. | 162 | Smith, J. E. | 54 |
| Burrell, B. A. | 115 | Illingworth, C. | 147 | Smith, J. H. | 112 |
| Burrell, B. B. | 133 | Illingworth, G. F. | 163 | Smith, J. H. | 149 |
| Burrell, E. | 157 | Illingworth, H. | 148 | Smith, J. R. | 119 |
| Burrell, E. J. | 134 | Illingworth, S. | 147 | Smith, J. W. | 141 |
| Burrell, F. F. | 131 | Illingworth, William | 15 | Smith, Jesse | 68 |
| Burrell, G. D. | 123 | Illingworth, William | 166 | Smith, John | 2 |
| Burrell, J. J. | 118 | Illingworth, William* | 178 | Smith, John | 20 |
| Burrell, M. G. | 146 | Inchbold, E. S. | 104, 108 | Smith, John | 21 |
| Burrell, P. S. | 140 | Inchbold, H. | 115 | Smith, John | 81 |
| Burrell, W. C. | 154 | Inchbold, T. | 22 | Smith, L. | 81 |
| Burstall, J. | 46 | Inge, H. E. A. | 149 | Smith, P. D. | 152 |
| Burton, John | 29 | Inge, H. F. | 151 | Smith, P. H. | 175 |
| Burton, Joshua | 29 | Ingham, A. E. | 150 | Smith, R. F. | 47 |
| Burton, R. C. | 79 | Ingham, W. | 98, 102 | Smith, R. G. | 65 |
| Burwell, C. | 46 | Ingham, W. C. | 136 | Smith, R. G. | 157 |
| Busfield, — | 69 | Ingle, J. A. | 142 | Smith, R. G.* | 177 |
| Bushby, J. | 7 | Ingle, J. M. | 48 | Smith, R. W. | 70 |
| Butler, A. E. | 93 | Ingram, S. | 56 | Smith, S. E. | 66 |
| Butler, A. O. | 94 | Inman, — | 17 | Smith, S. P. | 166 |
| Butler, B. | 113 | Inman, G. | 168 | Smith, Samuel | 23 |
| Butler, B. H. | 173 | Iredale, J. L. | 149 | Smith, Samuel* | 176 |
| Butler, H. M. | 113 | Ireland, J. N. | 170 | Smith, T. | 36 |
| Butler, J. L. | 163 | Irvine, J. | 16 | Smith, T. W. | 89 |
| Butler, James | 82 | Irvine, M. | 16 | Smith, W. G. | 125 |
| Butler, John | 63 | Irving, J. | 88 | Smith, W. J. | 150 |
| Butler, R. H. B. | 169 | Irwin, A. | 123 | Smith, W. J. C. | 157 |
| Butler, Roger | 96 | Irwin, E. | 127 | Smith, William | 31 |
| Butler, Rowland | 93 | Irwin, G. M. | 123 | Smith, William | 34 |
| Butler, T. S. | 80 | Ison, W. K. | 147 | Smith, William | 87 |
| Butler, T. T. | 139 | Jackman, C. | 88 | Smith, William | 135 |
| Butler, W. T. H. | 51 | Jackman, F. | 117 | Smithies, G. L. | 79 |
| Butterfield, H. | 16 | Jackman, G. W. | 88 | Smithson, H. F. | 164 |
| Butterfield, J. C. | 155 | Jackman, R. A. | 128 | Smithson, J. | 77 |
| Butterfield, J. D. | 26 | Jackson, A. J. | 163 | Smithson, R. | 81 |
| Butterfield, W. B. | 25 | Jackson, E. R. | 158 | Smithson, T. H. | 74 |
| Butterfielde, R. | 1 | Jackson, F. G. | 158 | Smyth, B. | 119 |
| Butterworth, A. B. | 35 | Jackson, G. F. | 85, 100 | Smyth, C. E. C. | 161 |
| Butterworth, A. N. | 35 | Jackson, G. F. | 133 | Smyth, C. E. C.* | 178 |
| Buttrey, A. B. | 109 | Jackson, G. P. | 174 | Smyth, J. | 21 |
| Buxton, T. | 133 | Jackson, George | 43 | Smyth, W. H. | 107 |
| Byles, R. D. | 140 | Jackson, George | 175 | Snell, W. | 81 |
| Byles, W. H. | 140 | Jackson, H. G. | 130 | Snowdon, A. | 80 |
| Byrne, M. T. | 131 | Jackson, H. J. | 155 | Snowdon, C. | 61 |
| Bywater, H. | 168 | Jackson, J. D. | 74 | Snowdon, H. | 59 |
| Bywater, John | 23 | Jackson, J. H. B. | 165 | Snowdon, H. F. | 174 |
| Bywater, John | 37 | Jackson, J. J. | 91 | Snowdon, J. | 62 |
| Bywater, T. | 27 | Jackson, J. T. | 87, 100 | Snowdon, R. K. | 59 |
| Bywater, T. H. | 120 | Jackson, M. H. | 66, 74 | Snowdon, R. K.* | 177 |
| Bywater, W. B. | 167 | Jackson, P. R. | 165 | Somers, F. W. | 131 |
| Cadman, T. | 8 | Jackson, R. B. | 165 | Somers, G. | 137 |
| Calder, Edward | 26 | Jackson, R. S. | 165 | Somers, J. | 162 |
| Calder, Edwin | 24 | Jackson, Richard | 166 | Somers, R. M. | 128 |
| Calder, F. | 24, 33 | Jackson, Robert | 101 | Somersgill. R. M. | 41 |
| Calder, G. | 24 | Jackson, S. F. | 169 | Soulby, E. W. | 40 |
| Call, W. | 145 | Jackson, Samuel | 40 | Sowden, W. H. | 15 |
| Calverley, J. | 130 | Jackson, Samuel* | 177 | Sowry, F. | 141 |
| Calverley, J. R. | 116 | Jackson, W. H. | 74 | Sowry, R. | 75 |
| Calvert, — | 70 | James, R. B. | 141 | Sowry, W. W. | 58 |
| Calvert, A. | 77 | James, R. S. | 39 | Spaforth, W. E. | 86, 101 |
| Calvert, C. | 16 | Jameson, C. N. | 170 | Spark, C. E. | 90 |
| Calvert, J. | 16 | Jameson, T. L. | 170 | Spark, T. B. | 109 |
| Campbell, H. F. | 132 | Jans, J. | 19 | Spark, W. S. | 112 |
| Campbell, J. E. | 64 | Jaques, R. | 130 | Speed, J. | 49 |
| Carden, J. | 67 | Jeffels, F. W. | 52 | Speight, A. | 12 |
| Carey, G. T. | 46 | Jefferson, A. | 36 | Speight, C. | 12 |
| Caris, M. X. S. C. | 33 | Jefferson, R. P. | 95, 102 | Speight, S. | 12 |
| Cariss, B. | 95 | Jeffrey, T. B. | 126 | Spence, H. | 41 |
| Cariss, E. | 67 | Jennings, — | 73 | Spence, John | 36 |
| Cariss, F. H. | 110 | Jennings, H. H. | 128 | Spence, John | 67 |
| Cariss, H. | 37 | Jennings, J. | 15 | Spenceley, J. | 76, 101 |
| Cariss, P. | 95 | Jennins, E. | 78 | Spenceley, T. | 76 |
| Cariss, S. A. | 37 | Jewitt, E. | 50 | Spencer, A. | 54 |
| Cariss, W. | 70 | Joel, W. | 153 | Spencer, C. | 151 |
| Carlile, T. | 12 | Johnson, A. | 58 | Spencer, F. | 54 |
| Carline, James | 60 | Johnson, A. H. | 155 | Spencer, H. | 173 |
| Carline, John | 37 | Johnson, C. | 143 | Spencer, J. | 14 |
| Carr, C. C. | 51 | Johnson, F. R. | 148 | Spencer, M. G. | 175 |
| Carr, E. | 30 | Johnson, F. W. | 109 | Spencer, William | 20 |
| Carr, F. F. | 21 | Johnson, G. W. | 110 | Spencer, William | 79 |
| Carr, G. | 21 | Johnson, H. L. | 150 | Spicer, H. N. | 172 |
| Carr, G. S. | 46 | Johnson, H. L. | 171 | Spink, F. | 175 |
| Carr, G. W. | 148 | Johnson, James | 25 | Spink, H. H. | 131 |
| Carr, H. M. | 32 | Johnson, James | 60 | Spink, L. | 175 |
| Carr, J. D. | 38 | Johnson, James | 62 | Spinks, W. J. H. | 25 |
| Carr, J. W. | 91 | Johnson, John | 60 | Spirritt, W. | 25 |
| Carr, John | 37 | Johnson, John | 87, 100 | Spong, A. | 158 |
| Carr, John | 49 | Johnson, S. F. B. | 45 | Spong, F. | 41 |
| Carr, P. H. | 170 | Johnson, S. W. | 47 | Spong, H. | 115 |
| Carr, P. L. | 148 | Johnson, T. | 27 | Spong, J. F. | 125 |
| Carrack, T. | 173 | Johnson, T. B. | 14 | Squire, T. | 13 |
| Carter, C. | 65 | Johnson, T. R. | 134 | Squires, S. R. | 143 |
| Carter, D'A. B. | 119 | Johnson, T. S. | 171 | St. John, H. P. | 98 |
| Carter, E. G. | 119 | Johnson, W. A. | 136 | Stables, E. H. | 29 |
| Carter, F. L. | 131 | Johnson, W. H. | 87, 100 | Stables, E. L. | 108 |
| Carter, F. R. | 94 | Johnson, W. L. | 147 | Staley, C. H. | 45 |
| Carter, G. | 121 | Johnson, William | 65 | Staley, J. M. | 84 |
| Carter, H. | 27 | Johnson, William | 74 | Standidge, A. | 157 |
| Carter, J. | 61 | Jones, B. M. | 157 | Standidge, H. | 151 |
| Carter, R. G. | 74 | Jones, E. A. | 136 | Standidge, P. | 151 |
| Carter, R. G. | 77 | Jones, E. P. | 116 | Standish, S. | 42 |
| Carter, W. H. | 97 | Jones, F. W. | 124 | Staniland, S. J. | 42 |
| Cartledge, F. | 163 | Jones, H. S. | 124 | Stanley, T. | 63 |
| Cass, H. E. | 57 | Jones, J. A. | 121 | Stansfeld, John | 17 |
| Cass, W. A. | 49 | Jones, J. E. S. | 28 | Stansfeld, John | 162 |
| Cassidy, W. G. | 33 | Jones, P. G. | 148 | Stansfeld, R. | 17 |
| Casson, T. | 74 | Jones, R. A. | 141 | Stapleton, F. | 91 |
| Castelow, B. W. | 52 | Jones, R. A.* | 177 | Stapleton, G. | 84 |
| Castelow, G. | 52 | Jones, W. E. | 122 | Staveley, T. B. | 53 |
| Catharall, J. | 40 | Jones, W. H. | 28 | Stead, A. | 102 |
| Cave, T. S. | 113 | Jordan, H. | 18 | Stead, B. | 30 |
| Cawthorn, W. | 92 | Jordan, J. | 26 | Stead, D. G. | 26 |
| Cawthron, T. | 38 | Josephy, H. | 143, 149 | Stead, E. | 47 |
| Chadwick, A. C. | 148 | Josephy. A. | 153 | Stead, H. | 111 |
| Chadwick, Charles | 87 | Josephy. E. | 151 | Stead, R. W. | 129 |
| Chadwick, Charles | 95 | Jowett, H. | 5 | Stephen, H. S. J. | 96 |
| Chadwick, F. T. | 140 | Jowett, J. | 5 | Stephen, R. A. | 96 |
| Chadwick, G. W. | 142, 156 | Jowett, J. E. | 69 | Stephenson, J. | 64 |
| Chadwick, H. | 68, 73, 78 | Jowett, J. M. | 19 | Stephenson, W. | 65 |
| Chadwick, J. C. | 164 | Jowett, W. | 35 | Stevenson, — | 135 |
| Chadwick, J. G. | 148 | Jowett. J. B. | 166 | Stevenson, A. F. | 160 |
| Chadwick, J. L. | 142 | Jowitt, A. N. | 62 | Stevenson, G. | 135 |
| Chadwick, J. W. | 69 | Jowitt, J. | 16 | Stewart, A. B. S. | 131 |
| Chadwick, P. | 164 | Jowitt, J. F. | 58 | Stewart, F. F. | 154 |
| Chadwick, Thomas | 48 | Jowitt, J. H. | 55 | Stirk, G. B. | 175 |
| Chadwick, Thomas | 156 | Jowitt, J. H.* | 177 | Stockdale, C. | 159 |
| Chadwick, W. | 73 | Jowitt, W. A. | 89 | Stockdale, F.* | 178 |
| Chadwick, W. L. | 140 | Jowitt, William | 55 | Stocks, J. | 12 |
| Chadwick, William | 68 | Jowitt, William* | 177 | Stocks, S. | 12 |
| Chadwick, William | 145 | Joy, A. H. | 81 | Stockwell, E. | 170 |
| Chaffer, J. E. | 76 | Joy, A. O. | 136 | Storey, T. H. | 87, 101 |
| Chambers, C. J. | 21 | Joy, C. | 81 | Storey, W. | 62 |
| Chambers, H. S. | 170 | Joy, D. G. | 84 | Storr, P. R. | 104, 108 |
| Chambers, R. | 2 | Joy, E. B. | 127, 141 | Stott, R. W. N. | 11 |
| Chambers, T. | 60 | Joy, J. J. | 52 | Stott, W. | 49 |
| Chantrell, — | 91 | Joy, P. H. | 114 | Stow, E. M. | 71 |
| Chantrell, J. B. | 23 | Joy, R. E. | 139 | Stow, F. M. | 71 |
| Chantrell, R. D. | 23 | Joy, W. G. | 111 | Stow, K. W. | 71 |
| Chapman, A .C. A. W. H. | 143 | Judd, J. | 52 | Stow, L. D. | 79 |
| Chapman, T. E. | 55 | Jukes, A. L. | 80 | Stow, L. J. | 90 |
| Chappell, R. K. | 172 | Kay, E. | 42 | Strachen, W. A. | 44 |
| Chard, A. H. | 167 | Kay, Joseph | 64 | Strangwayes, E. | 163 |
| Chard, E. A. | 167 | Kay, Joseph | 166 | Strangwayes, O. | 163 |
| Charlesworth, B. | 12 | Kay, Joshua | 50 | Strickland, E. | 26 |
| Charlesworth, C. D. | 137 | Kay, W. C. | 59 | Stringer, B. | 154 |
| Charlesworth, C. H. | 42, 57 | Kay, W. H. | 84 | Stringer, J. | 32 |
| Charlesworth, E. | 153 | Kaye, S. C. | 173 | Strother, T. B. | 19 |
| Charlesworth, E. G. | 41 | Keeble, A. | 75 | Stuart, C. | 34 |
| Charlesworth, J. R. | 161 | Keeble, A. A. | 100 | Stuart, W. | 35, 39 |
| Charlesworth, S. | 144 | Keeling, W. | 73, 85 | Stubbings, H. | 22 |
| Charlesworth, T. | 144 | Keeling, W. B. | 20 | Sturdy, W. A. | 166, 169 |
| Charnley, J. H. | 158 | Keene, C. | 125 | Sturgeon,— | 70 |
| Charnock, F. | 39 | Keene, W. C. T. | 117 | Sturgeon, J. | 63 |
| Cheater, F. W. | 165 | Kelk, A. H. | 118 | Sturgeon, T. | 68 |
| Cheater, J. | 165 | Kelk, W. H. | 132 | Sturgeon, W. | 63 |
| Cheeseman, A. L. | 158 | Kell, S. G. | 136 | Styles, H. | 2 |
| Cheetham, C. G. | 21 | Kelly, B. R. | 160 | Styon, T. | 63 |
| Cheetham, H. C. | 49 | Kelly, C. A. | 160 | Sugden, John | 103 |
| Cheetham, J. | 30 | Kelly, L. | 37 | Sugden, John | 155 |
| Cheetham, W. | 23 | Kelsall, J. | 47 | Sugden, W. L. | 103 |
| Chermside, W. J. | 106 | Kempe, A. | 68 | Summers, W. | 44 |
| Chiesman, A. | 64 | Kempe, E. | 82 | Summerscale, A. | 114 |
| Chiesman, W. G. | 43 | Kempe, J. W. | 62 | Summerscale, A. C. | 131 |
| Child, E. | 122 | Kempe, W. | 68 | Summerscale, J. C. | 118 |
| Child, J. | 86 | Kemplay, A. | 69 | Summerskill, W. | 145 |
| Child, T. | 87, 99 | Kemplay, B. | 10 | Sumner, C. T. | 121 |
| Child, T. A. | 158 | Kemplay, C. H. | 70 | Sumner, J. E. | 119 |
| Childe, S. | 2 | Kemplay, J. | 17 | Sumner, T. C. | 74 |
| Chippendale, C. T. | 30 | Kemplay, R. W. | 7 | Sunderland, J. P. | 10 |
| Chorley, A. R. | 137 | Kendall, — | 93 | Sunley, W. | 159 |
| Chorley, C. F. | 129 | Kendall, C. T. | 74 | Sutcliffe, T. | 34 |
| Chorley, E. A. | 162 | Kendall, E. | 75 | Sutcliffe, W. | 20 |
| Chorley, G. | 90 | Kendall, F. W. | 81 | Swaine, H. P. | 92 |
| Chorley, H. | 18 | Kendall, J. | 67 | Swaine, J. A. | 89 |
| Chorley, H. S. | 137 | Kendall, J. W. C. | 73, 78 | Swale, B. W. J. | 170 |
| Chorley, M. W. W. | 90 | Kendell, D. B. | 30 | Swale, S. | 37 |
| Chorley, T. H. | 162 | Kendell, D. B.* | 176 | Swales, T. | 35 |
| Chorley, W. F. | 25 | Kendrew, T. | 33 | Swift, W. | 7 |
| Chowler, H. R. | 76 | Kenion, G. | 94 | Swithinbank, — | 16 |
| Chowler, R. B. | 83 | Kennion, R. | 24 | Swithinbank, — | 73 |
| Churton, A. G. | 156 | Kent, E. A. | 171 | Swithinbank, C. M. | 69 |
| Churton, B. H. | 153 | Kent, W. | 173 | Swithinbank, J. E. | 102 |
| Churton, E. T. | 148 | Kent, W. M. | 111 | Sykes, Alan | 92 |
| Chute, R. A. J. | 173 | Kenworthy, — | 50 | Sykes, Albert | 32 |
| Clapham, — | 35 | Kenworthy, P. | 82 | Sykes, E. S. | 111 |
| Clapham, A. J. | 125 | Kenworthy, W. E. | 34 | Sykes, Harry | 114 |
| Clapham, C. | 74 | Kerr, E. R. C. | 175 | Sykes, Henry | 102 |
| Clapham, E. | 56 | Kerr-Smith, R. W. R. | 174 | Sykes, J. | 14 |
| Clapham, T. W. | 88 | Kershaw, E. L. | 157 | Sykes, J. A. | 94 |
| Clark, — | 73 | Kershaw, H. | 116 | Sykes, J. C. | 104 |
| Clark, A. E. | 133 | Kershaw, J. | 62 | Sykes, J. F. | 50 |
| Clark, C. | 86, 99 | Kershaw, J. F. | 154 | Sykes, J. P. | 104 |
| Clark, C. E. | 155 | Kershaw, P. S. | 157 | Sykes, J. W. | 40 |
| Clark, C. E. | 171 | Kershaw, R. | 142 | Sykes, J. W. | 116 |
| Clark, F. B. | 132 | Kershaw, W. | 18 | Sykes, W. | 111 |
| Clark, G. H. | 110 | Kershaw, W. R. | 31, 42 | Sykes, W. H. | 175 |
| Clark, G. M. | 91 | Kesteven, C. P. | 167 | Sykes. W. S. | 102 |
| Clark, J. A. | 135 | Kettlewell, C. B. | 74 | Sylvester, W. C. | 77 |
| Clark, John | 23 | Kilbinton, C. E. | 43 | Tadman, F. S. | 165 |
| Clark, John | 118 | Kilbinton, H. | 43 | Talbot, E. K. | 164 |
| Clark, Joseph | 10 | Kilbinton, W. | 33 | Talbot, N. S. | 165 |
| Clark, O. W. | 96 | Killingbeck, C. J. | 37 | Tannett, G. | 152 |
| Clark, P. | 93 | King, C. | 75 | Tannett, J. C. | 117 |
| Clark, T. | 31 | King, J. | 7 | Tannett, R. H. | 152 |
| Clark, W. | 95 | Kingston, R. | 61 | Tannett, T. | 128 |
| Clark, W. H. | 171 | Kinsley, J. V. | 102 | Tannett, W. O. | 136 |
| Clarke, A. E. | 116 | Kinsley, W. | 116 | Tarbottom, A. S. | 54 |
| Clarke, C. H. | 116 | Kipling, J. | 18 | Tarbottom, M. O. | 54 |
| Clarke, E. | 84 | Kirby, — | 26 | Tarbotton, W. | 13 |
| Clarke, E. F. B. | 156 | Kirby, — | 26 | Tate, H. D. | 27 |
| Clarke, F. E. | 106 | Kirby, Charles | 27 | Tattersall, W. | 19 |
| Clarke, F. E. | 174 | Kirby, W. H. | 88 | Tavernier, L. F. | 95 |
| Clarke, H. N. | 134 | Kirk, A. | 127 | Tayler, Alfred | 105 |
| Clarke, J. | 24 | Kirk, A. S. | 53 | Tayler, Archdale | 96 |
| Clarke, J. A. | 148 | Kirk, E. | 34 | Tayler, E. H. | 116 |
| Clarke, J. C. H. | 148 | Kirk, W. | 62 | Taylor G. | 52 |
| Clarke, J. E. | 80 | Kirkby, A. R. | 83 | Taylor, — | 101 |
| Clarke, W. E. | 106 | Kirkby, A. T. | 94 | Taylor, A. J. L. | 109 |
| Clarke, W. F. | 91 | Kirkby, Charles | 12 | Taylor, C. | 52 |
| Clarkson, J. | 43 | Kirkby, Charles | 114 | Taylor, E. | 58 |
| Clarkson, J. W. | 76 | Kirkby, E. | 123 | Taylor, E. A. W. | 18 |
| Clarkson, T. | 63 | Kirkby, E. O. | 174 | Taylor, J. C. | 58 |
| Clay, T. | 12, 17 | Kirkby, H. | 91 | Taylor, John | 30 |
| Clayton, A. J. | 112 | Kirkby, J. H. | 118 | Taylor, John | 58 |
| Clayton, J. | 38 | Kirkby, John | 43 | Taylor, John | 63 |
| Clayton, J. E. | 105 | Kirkby, John | 132 | Taylor, P. | 172 |
| Clayton, R. | 10, 21 | Kirkby, R. | 173 | Taylor, R. | 49 |
| Clayton, W. W. | 90 | Kirkby, T. W. | 43 | Taylor, R. V. | 44 |
| Cleg, J. | 42 | Kirkby, W. E. | 93 | Taylor, S. | 102 |
| Clegg, W. T. | 136 | Kirkman, D. | 40 | Taylor, T. | 75 |
| Cliff, W. H. | 51 | Kirshaw, S. | 3 | Taylor, T. C. | 66 |
| Cliffe, P. N. | 137 | Kitchin, F. H. | 163 | Taylor, W. | 31 |
| Cliffe, W. T. | 136 | Kitching, H. | 40 | Taylor, W. D. | 153 |
| Clifton, H. | 163 | Kitching, J. C. | 10 | Taylor, W. S. | 16 |
| Clough, J. W. | 151 | Kitson, B. P. | 171 | Taylor, W. S. | 103 |
| Clough, W. | 86, 99 | Kitson, D. | 21 | Teal, A. | 23 |
| Clough, W. W. | 56 | Kitson, E. P. | 51 | Teale, B. | 44 |
| Coates, C. | 35 | Kitson, H. | 171 | Teale, H. | 25 |
| Coates, J. E. | 33 | Knapton, J. | 32 | Teale, J. | 21 |
| Coates, W. H. | 14 | Knight, G. | 3 | Teale, J. W. | 58 |
| Coats, T. | 52, 60 | Knight, J. C. | 36 | Teale, T. P. | 40 |
| Cockburn, G. E. | 151 | Knight, R. W. | 115 | Teale, W. H. | 24 |
| Cockerill, J. | 175 | Knowles, A. J. | 53 | Teale, William | 12 |
| Coggill, G. | 44 | Knowles, A. J. | 144 | Teale, William | 13 |
| Coleman, F. E. | 84 | Knowles, B. | 134 | Teale, William | 25 |
| Coleman, G. D. | 132 | Knowles, F. W. | 162 | Teasdale, J. | 54 |
| Coleman, W. A. H. | 91 | Knowles, R. H. | 55 | Tempest, A. R. | 137 |
| Collier, C. | 60 | Labatt, C. C. | 132 | Tempest, B. R. | 152 |
| Collier, H. | 58 | Labatt, G. H. | 132 | Tempest, C. E. | 94 |
| Collier, J. L. | 85 | Labatt, L. A. | 132 | Tempest, C. W. | 115 |
| Collins, A. M. | 141 | Labatt, T. M. E. | 132 | Tempest, D. | 25 |
| Collins, B. S. | 41 | Ladley, J. | 88 | Tempest, F. N. | 94 |
| Collins, F. | 35 | Ladley, J. D. | 117 | Tempest, J. | 11 |
| Collins, G. | 35 | Lake, C. | 175 | Tempest, J. E. E. | 167 |
| Collins, H. | 35 | Lamb, A. | 161 | Tempest, P. D. | 173 |
| Collins, J. H. | 141 | Lamb, C. E. | 160 | Temple, M. H. | 116 |
| Colton, J. | 76 | Lamb, G. H. | 160 | Templer, C. B. | 112 |
| Conder, A. R. | 162 | Lamb, W. H. | 160 | Templer, C. L. | 124 |
| Conder, A. R.* | 178 | Lambert, A. | 110 | Templer, H. | 110 |
| Conder, E. B. | 153 | Lambert, C. C. | 174 | Templer, R. A. | 132 |
| Conder, E. B.* | 178 | Lambert, E. W. | 76 | Templer, W. C. | 117 |
| Conder, E. L. | 126 | Lambert, E. W. | 100 | Tennant, C. A. | 13 |
| Cook, C. F. W. | 130 | Lambert, G. D. | 146 | Tennant, E. J. | 71 |
| Cook, H. H. H. | 171 | Lambert, P. | 115 | Tennant, H. P. | 71 |
| Cook, H. W. H. | 171 | Lambert, W. | 57 | Tennant, J. | 84 |
| Cook, J. | 55 | Lambert, W. H. | 155 | Tennant, R. | 38 |
| Cooke, A. | 1 | Lampen, C. D. | 109 | Tennant, S. | 8 |
| Cooke, C. H. | 175 | Lampen, F. B. | 148 | Tennant, T. W. | 82 |
| Cooke, J. H. | 164 | Lampen, H. B. | 138 | Tennant, Thomas | 9 |
| Cooke, R. | 1 | Land, J. | 115 | Tennant, Thomas* | 176 |
| Cookson, A. D. | 10 | Land, R. T. | 70 | Tennant, W. | 20 |
| Cookson, Edward | 9 | Land, W. | 145 | Terry, J. F. | 16 |
| Cookson, Edward | 39 | Landless, N. B. | 160 | Tetley, A. J. | 84 |
| Cookson, F. T. | 7 | Landless, W. | 160 | Tetley, C. F. | 82 |
| Cookson, Francis | 38, 54 | Landmann, A. E. | 163 | Tetley, H. | 108 |
| Cookson, Frederick | 12 | Landmann, H. E. | 169 | Teuer, J. | 14 |
| Cookson, H. | 38 | Landmann, L. H. | 156 | Thackery, A. G. | 141 |
| Cookson, H. H. O. | 154 | Landmann, R. H. | 169 | Thackrah, A. | 141 |
| Cookson, J. D. | 10 | Langley, J. G. | 93 | Thackwray, C. | 26 |
| Cookson, Joseph | 3 | Lapage, C. C. | 84 | Thackwray, P. | 155 |
| Cookson, Joshua | 108 | Lapage, J. | 70 | Theed, W. V. | 118 |
| Cookson, P. C. | 154 | Lapage, R. H. | 81 | Thewell, J. | 60 |
| Cooper, Alfred | 64 | Lapage, W. | 70 | Thewell, W. L. | 64 |
| Cooper, Arthur | 35 | Lassey, J. | 22 | Thirkill, F. | 151 |
| Cooper, G. | 85 | Lassey, R. H. | 87, 100 | Thomas, A. W. | 123 |
| Cooper, J. W. | 59 | Latimer, H. G. | 128 | Thomas, C. E. | 93 |
| Cooper, James | 43 | Latimer, N. | 45 | Thomas, J. G. | 93 |
| Cooper, James | 64 | Latimer, T. | 45 | Thomas, T. I. | 123 |
| Cooper, Joseph | 85 | Laurence, T. | 32 | Thomas, W. H. | 64 |
| Cooper, Joshua | 60 | Lawrence, E. | 1 | Thompson, A. | 170 |
| Cooper, M. | 8 | Lawson, E. | 106 | Thompson, A. R. | 156 |
| Cooper, R. | 84 | Lawson, F. W. | 70 | Thompson, A. T. | 149 |
| Cooper, S. | 20 | Lawson, H. H. | 130 | Thompson, A. W. | 129 |
| Cooper, W. | 16 | Lawson, H. P. | 168 | Thompson, C. J. | 93 |
| Cope, C. W. | 13 | Lawson, J. | 48 | Thompson, C. W. | 122 |
| Copeland, F. | 24 | Lawson, Richard | 139 | Thompson, E. E. | 158 |
| Copeland, W. | 24 | Lawson, Robert | 14 | Thompson, F. | 41 |
| Copperthwaite, W. C. | 116 | Lawson, T. | 33 | Thompson, F. D'A. | 151 |
| Cottam, G. T. | 21, 33 | Lawson, W. | 5 | Thompson, G. | 50 |
| Cottam, M. C. | 40 | Lawson, W. S. | 87, 100 | Thompson, H. W. | 153 |
| Cotton, J. | 99 | Laycock, H. | 48 | Thompson, J. | 47 |
| Cousins, W. J. | 106 | Lazenby, J. | 36 | Thompson, J. O. | 166 |
| Cowell, R. W. | 59 | Leadman A. D. O. | 81 | Thompson, J. P. | 146 |
| Cowen, J. R. | 144 | Leak, J. B. | 159 | Thompson, J. W. | 161 |
| Cowen, T. | 146 | Leak, J. E. | 107 | Thompson, N. D'A. | 172 |
| Cowen, W. C. B. | 137 | Leak, T. M. | 28 | Thompson, R. D. | 159 |
| Cox, J. | 17 | Learoyd, J. | 126 | Thompson, Samuel | 64 |
| Coxon, J. T. | 81 | Learoyd, Walker | 134 | Thompson, Squire | 61 |
| Coxon, W. | 51 | Learoyd, William | 136 | Thompson, V. | 138 |
| Crabtree, A. | 88 | Leather, A. H. | 80 | Thompson, W. H. | 76 |
| Crabtree, E. V. | 170 | Leather, B. | 75 | Thompson, W. W. | 102 |
| Crabtree, H. G. | 170 | Leather, J. H. | 70 | Thomson, E. | 157 |
| Crabtree, S. | 23 | Leather, J. K. | 86, 100 | Thomson, G. | 156 |
| Craggs, E. H. | 122 | Leather, P. A. | 159 | Thoresby, R. | 2 |
| Craister, T. L. | 68 | Leather, W. G. | 70, 74 | Thorns, W. | 53 |
| Craister, W. | 73 | Leather, W. G.* | 177 | Thorns, Z. | 24 |
| Crampton, — | 73 | Leathley, J. T. | 169 | Thornton, H. | 57 |
| Crampton, C. W. | 90 | Ledbetter, F. C. | 155 | Thornton, T. W. | 76, 101 |
| Crampton, J. | 48 | Ledgard, J. | 95 | Thorp, A. | 110 |
| Crampton, T. | 68 | Lee, A. C. | 148 | Thorp, A. E. | 165 |
| Crampton, W. | 152 | Lee, E. K. | 134 | Thorp, D. | 9 |
| Cran, W. | 29 | Lee, H. C. | 42 | Thorp, G. D. | 172 |
| Crathorne, J. | 99 | Lee, J. G. T. | 85, 100 | Thorp, H. W. | 173 |
| Craven, A. C. | 91 | Lee, J. W. | 147 | Thorp, J. | 143 |
| Craven, A. C. | 134 | Lee, L. | 36 | Thorp, J. S. | 162 |
| Craven, D. H. | 154 | Lee, L.* | 176 | Thorp, R. | 172 |
| Craven, F. | 160 | Lee, R. | 149 | Thorp, R. S. | 60 |
| Craven, H. | 81 | Lee, S. | 14 | Thorp, S. | 170 |
| Craven, J. | 153 | Lee, T. O. | 61 | Thorpe, J. H. | 33 |
| Craven, S. | 57 | Lee, V. C. | 42 | Thurnell, G. | 32, 45 |
| Crawford, A. | 54 | Lee, William | 17 | Thwaites, J. | 60 |
| Crawford, A. H. | 142 | Lee, William | 74 | Tidswell, W. | 11 |
| Crawford, J. P. | 162 | Lee, William | 75 | Tilburn, J. | 76, 84 |
| Crawford, S. | 18 | Leech, R. E. | 132 | Tilburn, W. A. | 45 |
| Crawford, William | 36 | Lees, F. A. | 75, 80 | Till, T. | 50 |
| Crawford, William | 118 | Lempriere, G. B. | 108 | Tiltman, J. H. | 112 |
| Crawshaw, I. C. B. | 163 | Leng, E. | 150 | Titley, F. A. | 125 |
| Crawshaw, J. B. | 157 | Leng, J. G. | 156 | Titley, J. E. | 129 |
| Crawshaw, V. | 139 | Lenton, T. | 61 | Todd, A. S. | 128 |
| Craythorne, J. | 86 | Leslie, G. | 139 | Todd, G. | 11 |
| Cresswell, F. | 5 | Levi, H. | 50 | Todd, G. S. | 121 |
| Cribb, R. M | 162 | Levi, M. | 128 | Todd, J. E. S. | 121 |
| Croft, H. | 10 | Libbey, E. O. | 148 | Tomlinson, E. R. | 164 |
| Croisdale, C. R. | 84 | Libbey, H. C. | 170 | Tomlinson, J. | 45 |
| Croisdale, G. | 39 | Liddle, J. | 28 | Tomlinson, T. C. | 107 |
| Croisdale, J. | 53 | Liddle, S. | 141 | Toomy, J. | 20 |
| Croisdale, W. | 66 | Lightfoot, J. | 15 | Topham, H. | 97 |
| Croker, E. W. | 125 | Lightfoot, M. | 69 | Topham, J. | 111 |
| Cromack, — | 65 | Lindale, F. | 57 | Topham, Richard | 82 |
| Cromack, W. N. | 27 | Linder, H. G. | 51 | Topham, Richard | 108 |
| Crookes, R. | 27 | Lindsey, T. | 3 | Topham, W. | 34 |
| Cropper, S. | 13 | Lindsley, H. G. | 128 | Tordoff, B. | 167 |
| Crosfield, H. A. | 132 | Linfoot, M. | 40, 48 | Tordoff, H. L. | 143 |
| Crosfield, W. H. | 141 | Linsley, W. | 21 | Tordoff, T. B. | 130 |
| Crosland, J. | 8 | Lister, F. | 168 | Towers, A. G. | 54 |
| Cross, E. P. | 144 | Lister, F. E. | 142 | Towgood, J. B. | 91 |
| Cross, F. | 132 | Lister, George | 55 | Towler, Albert | 82 |
| Cross, G. | 121 | Lister, George | 74 | Towler, Arthur | 79 |
| Crossland, A. | 43 | Lister, H. J. | 145 | Towler, W. | 11 |
| Crossland, E. H. | 28 | Lister, J. W. | 45 | Townend, John | 172 |
| Crossland, H. | 26 | Lister, J. W. | 48 | Townend, Jonathan | 38 |
| Crossland, J. | 53 | Lister, James | 168 | Townend, Walter | 162 |
| Crossland, J. S. | 24 | Lister, Joseph | 10 | Townend, William | 156 |
| Crossland, T. | 27 | Lister, Joseph | 48 | Townsend, George | 21 |
| Crossland, T. S. | 24 | Lister, N. | 173 | Townsend, George | 37 |
| Crossland, W. | 31 | Lister, W. | 12 | Townsley, E. H. | 132 |
| Crossley, C. | 57 | Liversedge, E. G. | 153 | Townsley, Edward | 55 |
| Crossley, H. | 77 | Liversedge, S. | 68 | Townsley, Ernest | 137 |
| Crossley, R. | 23 | Liversedge, T. B. | 74 | Townsley, G. H. | 138 |
| Crossley, R.* | 176 | Lloyd-Williams, G. H. | 157 | Townsley, J. | 53 |
| Crossley, W. | 36 | Load, F. C. | 152 | Townsley, J. L. | 55 |
| Crosthwaite, A. | 80 | Lockwood, F. D. | 91 | Townsley, R. H. | 119 |
| Crosthwaite, C. | 59 | Lockwood, J. | 61 | Townsley, T. C. | 129 |
| Crosthwaite, H. | 67 | Lockwood, J. S. | 75 | Townsley, W. P. | 121 |
| Crosthwaite, J. | 65 | Lockwood, R. W. | 94 | Trant, W. | 80 |
| Crosthwaite, R. J. | 55 | Loe, J. L. | 161 | Trechmann, M. L. | 136 |
| Crosthwaite, S. | 51 | Loe, J. S. | 43 | Tredholm, H. | 55 |
| Crosthwaite, W. | 61 | Loe, R. S. | 174 | Trenam, C. H. | 136 |
| Crosthwaite, W. F. | 70 | Loftus, A. | 87, 100 | Triebner, T. F. | 9 |
| Croudace, R. | 10 | Loftus, T. | 87 | Trow, A. | 76 |
| Crowther, George | 55, 57 | Logan, J. W. | 98 | Trow, A. G. | 79 |
| Crowther, Gideon | 46 | Lomax, E. W. | 37 | Trow, H. P. | 71 |
| Crowther, P. | 126 | Long, J. R. | 61 | Trumble, C. | 70 |
| Crowther, T. S. | 13 | Long, T. | 48 | Trumble, C.* | 177 |
| Cruickshank, H. D. S. | 155 | Longbottom, W. | 118 | Trumble, F. | 71 |
| Cruse, D. A. | 134 | Longley, J. | 100 | Trumble, G. H. | 71 |
| Cryer, — | 73 | Longley, J. A. | 162 | Tuckwell, A. J. | 93 |
| Cryer, J. W. | 68 | Longley, R. J. | 162 | Tuckwell, C. W. | 84 |
| Cryer, W. | 124 | Longley, Thomas | 76 | Tuckwell, P. E. | 107 |
| Cullingworth, F. H. | 167 | Longley, Thomas | 77 | Tuckwell, P. H. | 89 |
| Cullingworth, H. | 137 | Lord, C. | 20 | Tuke, C. | 62 |
| Cullingworth, J. D. | 137 | Lubelski, L. | 171 | Tuke, G. L. | 47 |
| Cullingworth, W. | 75, 84, 85, 99 | Lucas, J. | 18 | Tuke, T. | 60 |
| Cumley, C. C. | 11 | Lucas, R. | 92 | Tunnicliffe, M. | 74, 78 |
| Cunningham, A. | 156 | Ludolf, A. | 165 | Turlay, W. | 13 |
| Curtis, J. | 66 | Ludolf, E. | 168 | Turley, — | 23 |
| Curtis, T. B. | 61 | Ludolf, H. | 153 | Turner, — | 48 |
| Curtiss, T. | 76 | Ludolf, H. E. | 90 | Turner, Alfred | 94 |
| Cussons, J. T. | 90 | Ludolf, J. W. | 89 | Turner, Arthur | 137 |
| Cuthbert, F. A. | 132 | Lumb, W. | 20 | Turner, C. W. | 129 |
| Dain, W. H. | 51 | Lumby, J. R. | 40 | Turner, I. | 61 |
| Dakin, H. D. | 166 | Lumby, J. R.* | 177 | Turner, J. M. | 49 |
| Dakin, N. | 166 | Lumley, T. N. | 43 | Turner, John | 42 |
| Dalby, E. A. | 165 | Lupton, A. G. | 90 | Turner, John | 90 |
| Dalby, F. W. | 164 | Lupton, C. | 105 | Turner, Richard | 12 |
| Dalby, J. | 12 | Lupton, E. | 136 | Turner, Robert | 63 |
| Dalby, S. | 86, 99 | Lupton, F. M. | 82 | Turner, S. | 53 |
| Dale, J. E. | 159 | Lupton, Francis | 14 | Turner, S. M. B. | 129 |
| Dale, J. W. | 63 | Lupton, Francis* | 176 | Turner, T. | 44 |
| Dale, W. E. | 169 | Lupton, H. | 135 | Turner, V. H. | 132 |
| Dalton, E. E. | 169 | Lupton, J. | 15 | Turton, C. H. | 59 |
| Dalton, R. W. | 173 | Lupton, J.* | 176 | Turton, G. F. | 20 |
| Daly, D. | 80 | Lupton, T. | 2 | Turton, G. W. | 88 |
| Danby, G. F. | 75, 99 | Lyde, A. | 95 | Turton, J. H. | 58 |
| Danby, J. D. | 74 | Macaskie, T. S. | 152 | Turton, Jabez | 58 |
| Danby, W. | 73 | Macaulay, A. | 96 | Turton, Jabez | 60 |
| Darby, H. | 170 | Macaulay, C. T. | 74, 85 | Turton, William | 34 |
| Darby, T. | 39 | Mace, J. | 150 | Turton, William | 35 |
| Darke, C. H. | 65 | Mace, J.* | 178 | Tute, E. B. H. | 27 |
| Darke, H. W. | 65 | Macfarlane, A. L. | 168 | Tute, W. A. | 94 |
| Daunt, W. | 44 | Macfarlane, G. | 53 | Tutin, W. | 62 |
| Davidson, A. | 97 | Macfarlane, J. H. | 58 | Tweedale, J. | 95 |
| Davidson, J. W. | 61 | Macgowan, J. W. | 92 | Tweedale, J. B. | 165 |
| Davies, G. J. | 148 | MacGregor, J. G. | 140 | Twist, E. T. | 142 |
| Davies, J. | 135 | Machill, C. | 94 | Twist, W. L. | 140 |
| Davies, J. A. | 128 | Mackie, N. A. | 78 | Tyers, G. | 120 |
| Davies, T. H. | 132 | MacKillop, J. | 154 | Upton, C. E. | 83 |
| Davies, W. E. | 137 | Mackridge, T. | 57 | Upton, J. E. | 28 |
| Davis, A. | 154 | Mackson, — | 73 | Upton, S. E. | 114 |
| Davis, A. S. | 77 | Mackson, H. G. | 67 | Urquhart, G. | 9 |
| Davis, E. G. | 79 | Maclaren, A. | 148 | Varley, C. | 78 |
| Davis, G. | 146 | Maclaren, D. | 148 | Varley, G. A. | 162 |
| Davis, H. | 73 | Maclaren, W. | 148 | Varley, H. E. | 162 |
| Davis, J. | 46 | Macleod, J. | 104 | Varley, J. | 45 |
| Davis, L. | 73 | Madden, H. | 19 | Varley, J. E. | 147 |
| Davis, S. | 49 | Madden, W. | 19 | Varley, T. | 63 |
| Davis, Walton | 74 | Madden, W. M. | 29 | Vaux, C. | 73, 80 |
| Davis, William | 15 | Madden, W. M.* | 176 | Vaux, E. | 74 |
| Davis, William | 46 | Maggi, C. | 12 | Vaux, R. | 37 |
| Davy, J. W. | 71 | Maggi, F. C. | 63 | Vaux, W. | 87, 101 |
| Dawson, C. E. | 127 | Maggi, H. S. | 64 | Verity, C. F. | 164 |
| Dawson, C. E. | 128 | Mais, P. | 152 | Verity, E. A. | 161 |
| Dawson, E. W. | 119 | Maitland, R. | 12 | Verity, J. H. | 161 |
| Dawson, F. | 26 | Major, J. W. H. | 74 | Verral, E. B. | 166 |
| Dawson, F. W. | 112 | Mallaliew, W. H. J. | 102 | Vevers, G. A. | 89 |
| Dawson, G. | 104 | Mallandaine, A. D. | 171 | Vevers, J. H. | 126 |
| Dawson, G. H. | 112 | Mallandaine, F. H. | 171 | Vevers, W. | 33 |
| Dawson, H. J. | 45 | Mallett, H. | 53 | Vickers, C. H. | 51 |
| Dawson, H. S. J. | 112 | Mallett, W. C. | 73, 82 | Vickers, J. F. | 53 |
| Dawson, J. | 55 | Mammatt, J. E. | 143 | Vickers, R. E. | 31 |
| Dawson, J. H. | 29 | Manfield, R. H. | 133 | Vickers, W. R. | 50 |
| Dawson, R. A. | 130 | Manknell, A. | 145 | Vint, — | 73 |
| Dawson, S. P. | 29 | Mann, A. | 19 | Vint, W. J. | 69 |
| Dawson, T. | 117 | Mann, J. | 52 | Vokes, A. E. | 157 |
| Dawson, T. C. | 55 | Mann, J. L. | 60 | Vokes, S. B. | 157 |
| Dawson, W. | 21, 27 | Mann, P. | 52 | Waddington, M. H. | 104, 107 |
| Day, B. | 162 | Manning, A. | 140 | Waddington, T. | 11 |
| Day, B. C. | 172 | Manning, H. J. | 96 | Wade, A. | 103 |
| Day, C. | 105 | Marcan, L. | 164 | Wade, C. | 87 |
| Day, J. C. | 166 | March, F. J. | 156 | Wade, E. | 133 |
| Day, L. | 172 | Margerison, G. L. | 168 | Wade, E. B. | 57 |
| Dayson, A. R. | 144 | Markland, B. | 39 | Wade, F. | 75, 84 |
| Dayson, James | 17 | Markland, B.* | 176 | Wade, I. | 33 |
| Dayson, Jonathan | 49 | Markland, E. | 15 | Wade, James | 17 |
| De Macedo, F. J. H. | 173 | Markland, T. | 51 | Wade, John | 11 |
| De Macedo, J. A. A. | 169 | Marriott, J. B. | 24 | Wade, John | 28 |
| De Macedo, L. E. | 170 | Marsden, J. W. | 134 | Wade, John | 75, 84 |
| Dean, E. E. | 106 | Marsden, T. | 34 | Wade, John | 87 |
| Dear, W. | 93 | Marsh, C. | 131 | Wade, John* | 176 |
| Dearden, W. A, | 76, 85 | Marsh, H. | 66 | Wade, S. | 86 |
| Demain, R, | 170 | Marsh, H. R. C. S. | 118 | Wade, S. W. H. | 71 |
| Demaine, J, S. | 61 | Marsh, J. W. | 66 | Wade, Thomas | 10 |
| Denison, E. | 133 | Marshall, A. | 103 | Wade, Thomas | 49 |
| Denison, H. | 125 | Marshall, G. E. A. W. | 147 | Wade, Troughton | 124 |
| Denison, T. | 3 | Marshall, H. | 88 | Wade, W. S. | 39 |
| Denny, A. | 73 | Marshall, H. E. B. | 85 | Wade, W. S. | 131 |
| Denny, A. E. | 67 | Marshall, H. J. | 23 | Wade. John | 103 |
| Denny, C. | 73 | Marshall, J. R. | 95 | Wadsworth, J. W. | 103 |
| Denny, C. E. | 67 | Marshall, J. W. | 47 | Wainman, E. | 51 |
| Denny, J. T. | 49 | Marshall, W. S. | 140 | Wainman, G. T. | 76 |
| Dent, C. F. | 161 | Marsland, F. | 172 | Wainwright, G. E. | 17 |
| Dent, F. | 143 | Mart, C. | 160 | Wainwright, H. S. | 166 |
| Denton, A. F. | 139 | Mart, H. G. | 159 | Wainwright, S. G. | 46 |
| Denton, C. | 36 | Mart, W. | 167 | Wainwright, W. A. | 56 |
| Denton, Francis | 32 | Martin, E. | 83 | Wainwright, W. D. | 46 |
| Denton, Frank | 154 | Martin, J. | 20 | Wainwright, William | 30 |
| Denton, G. | 102 | Martin, J. R. | 83 | Wainwright, William | 74 |
| Denton, G. W. | 98 | Mason, Alfred | 150 | Waite, B. S. | 129 |
| Denton, Harry | 148 | Mason, Arthur | 143 | Waite, F. W. | 116 |
| Denton, Herbert | 104 | Mason, B. | 103 | Waite, H. | 135 |
| Denton, J. E. | 74 | Mason, C. F. | 131 | Waite, J. B. | 51 |
| Denton, J. W. | 141 | Mason, F. D. | 136 | Waite, J. B.* | 177 |
| Denton, S. | 60 | Mason, G. H. | 162 | Waite, N. A. | 170 |
| Denton, T. | 75 | Mason, H. C. | 67 | Waites, J. | 22 |
| Denton, W. J. | 22 | Mason, R. F. | 144 | Waithman, A. G. | 37, 39 |
| Denton, W. J.* | 176 | Mason, T. | 55 | Waithman, C. W. | 36 |
| Depledge, G. | 64 | Mason, W. D. | 155 | Waithman, G. R. | 103, 107 |
| Derham, E. W. | 110 | Mason, W. H. | 113 | Wales, E. | 1 |
| Derham, F. S. | 110 | Masser, J. | 63 | Walker, A. | 79 |
| Derham, J. M. | 45 | Masser, W. J. | 140 | Walker, A. T. | 95 |
| Derham, R. P. | 140 | Massey, W. H. | 91 | Walker, C. G. | 62 |
| Derham, S. H. | 128 | Massey, W. R. | 43 | Walker, C. H. | 47 |
| Dewherst, W, | 12 | Masters, J. | 29, 39 | Walker, C. T. | 133 |
| Dews, F. S. | 46 | Mather, A. M. | 67 | Walker, E. | 120 |
| Dibb, T. T. | 9 | Mather, E. F. | 67 | Walker, F. | 135 |
| Dibbs, H. | 165 | Mathers, B. | 25 | Walker, G. A. | 49 |
| Dickinson, — | 73 | Matheson, G. E. | 112 | Walker, G. H. | 26 |
| Dickinson, C. | 32 | Matheson, G. E. | 161 | Walker, H. B. | 136 |
| Dickinson, T. R. | 16 | Matheson, J. P. | 94 | Walker, H. E. | 142 |
| Dickinson, T. R.* | 176 | Matkin, J. | 166 | Walker, Henry | 71 |
| Dickson, H. B. | 159 | Matterson, A. W. | 116 | Walker, Henry | 107 |
| Dickson, J. | 93 | Matterson, C. H. | 124 | Walker, Herbert | 127 |
| Dickson, J. G. | 154 | Matterson, E. H. | 28 | Walker, J. A. | 39 |
| Dickson, J. P. | 98 | Matterson. J. K. | 28 | Walker, James | 79 |
| Dikes, J. | 10 | Matteson, C. H. | 83 | Walker, John | 24 |
| Ditmas, H. C. | 108 | Matthewman, A. E. | 144 | Walker, John | 47 |
| Divers, J. | 43 | Matthews, B. | 172 | Walker, John | 49 |
| Dixon, — | 25 | Matthews, C. H. S. | 155 | Walker, John | 53 |
| Dixon, A. E. | 144 | Matthews, C. H. S.* | 178 | Walker, Joseph | 11 |
| Dixon, D. | 64 | Matthews, C. T. | 160 | Walker, Joseph | 47 |
| Dixon, E. L. | 43 | Matthews, E. D. | 160 | Walker, Joseph | 51 |
| Dixon, E. W. | 62 | Matthews, J. | 26 | Walker, Joseph | 60 |
| Dixon, F. | 152 | Maud, W. M. | 59 | Walker, Joseph | 71 |
| Dixon, G. E. | 97 | Maude, C. B. | 79 | Walker, L. | 168 |
| Dixon, George | 23 | Maude, C. B.* | 177 | Walker, Robert | 49 |
| Dixon, George* | 176 | Maude, D. S. | 6 | Walker, Robert | 104 |
| Dixon, H. D. | 151 | Maude, J. E. | 79 | Walker, S. L. | 128 |
| Dixon, I. | 25 | Maude, W. H. | 79 | Walker, S. W. | 22 |
| Dixon, J. H. | 52 | Maude. J. | 55 | Walker, T. L. | 65 |
| Dixon, J. H. | 60 | Maughan, W. J. R. | 120 | Walker, T. W. | 49 |
| Dixon, J. W. | 150 | Maunder, — | 70 | Walker, Thomas | 22 |
| Dixon, Jeremiah | 4 | Maunder, G. W. | 84 | Walker, Tom | 107 |
| Dixon, John | 32 | Mawson, F. H. | 144 | Walker, W. B. | 22 |
| Dixon, Joseph | 159 | Mawson, F. H. | 145 | Walker, W. H. | 117 |
| Dixon, Joshua | 13, 21 | Mawson, J. H. | 145 | Walker, Walter | 88 |
| Dixon, L. | 111 | Mawson, J. W. | 75 | Walker, William | 33 |
| Dixon, N. E. | 169 | Mawson, T. E. | 11 | Walker, William | 47 |
| Dixon, R. C. | 55 | May, A. J. W. | 143 | Walker, William | 56 |
| Dixon, S. | 41 | May, E. F. | 143 | Walker, William | 62 |
| Dixon, T. W. | 93 | Mayhall, J. | 145 | Walker, William | 87 |
| Dixon, Thomas | 24 | Mayhall, J. H. | 142 | Walker, William | 107 |
| Dixon, Thomas | 31 | Mayne, W. | 45 | Walley, F. S. | 152 |
| Dixon, Thomas | 45 | McCandlish, J. G. | 130 | Walley, S. | 152 |
| Dixon, W. | 88 | McCarthy, J. | 141 | Walley, W. H. | 66 |
| Dixon, William | 20 | McCarthy, W. T. | 140 | Wallis, T. | 33 |
| Dixon, William | 23 | McDermott, G. | 28 | Walsh, C. | 62 |
| Dobson, A. K. | 54 | McDermott, W. | 28 | Walsh, J. | 57 |
| Dobson, Ainsley | 75 | McDonald, F. W. | 113 | Walsh, R. H. | 175 |
| Dobson, Alfred | 75 | McGowan, A. | 36 | Walton, A. | 151 |
| Dobson, Arthur | 106 | McGowan, W. | 36 | Walton, B. | 12 |
| Dobson, D. F. | 175 | McGown, J. T. | 32, 35 | Walton, James | 46 |
| Dobson, F. G. | 168 | McGuire, E. | 145 | Walton, Joseph | 55 |
| Dobson, J. E. | 32 | McGuire, J. B. | 145 | Ward, — | 69 |
| Dobson, J. E. | 113 | McLellan, F. C. | 113 | Ward, A. | 104 |
| Dobson, J. F. | 154 | McLellan, J. C. | 113 | Ward, A. O. | 166 |
| Dobson, J. R. | 168 | McLellan, W. | 113 | Ward, C. E. | 36 |
| Dobson, Jesse | 32 | McNicholl, P. J. | 29 | Ward, E. S. | 175 |
| Dobson, John | 64 | McPherson, W. W. | 130 | Ward, Edmund | 104 |
| Dobson, John | 74 | Mellish, A. H. | 175 | Ward, Edward | 16 |
| Dobson, Joseph | 15 | Mellish, A. R. | 164 | Ward, Edward | 47 |
| Dobson, Joseph | 38 | Mellish, C. T. | 167 | Ward, Edward | 82 |
| Dobson, L. P. | 174 | Mellish, D. S. | 153 | Ward, F. | 18 |
| Dobson, R. C. | 168 | Mellish, W. N. | 160 | Ward, H. | 75 |
| Dobson, S. | 4 | Mellor, J. B. | 15 | Ward, J. B. | 71 |
| Dobson, T. L. | 43 | Mellor, J. H. | 169 | Ward, J. F. | 133 |
| Dobson, Thomas | 15 | Mellor, T. | 131 | Ward, J. O. | 129 |
| Dobson, Thomas | 36 | Mellor, W. J. | 60 | Ward, T. | 11 |
| Dobson, Thomas | 51 | Melville, F. | 157 | Ward, Walter | 127 |
| Dobson, Thomas | 74 | Mennell, G. A. | 64 | Ward, William | 11 |
| Dobson, W. | 78 | Mercer, W. | 85 | Ward, William | 71 |
| Dobson, W. H. | 61 | Meredith, A. E. | 92 | Wardingley, C. | 45 |
| Dodd, E. C. T. | 164 | Meredith, S. R. | 92 | Wardle, J. W. | 26 |
| Dodd, E. J. A. | 164 | Metcalfe, J. | 45 | Ware, W. W. | 46, 55 |
| Dodgshun, L. S. | 156 | Metcalfe, W. | 7 | Waring, J. | 46 |
| Dodsworth, E. | 18 | Miall, L. | 165 | Warren, C. E. | 153 |
| Dodsworth, F. | 18, 27 | Miall, R. | 166 | Warren, W. J. | 123 |
| Doherty, A. H. | 139 | Miall, S. | 150 | Washington, W. | 52 |
| Dolby, N. S. | 167 | Micklethwaite, A. J. | 91 | Watkinson, H. | 2 |
| Donisthorpe, W. | 89 | Micklethwaite, B. | 25 | Watson, — | 73 |
| Douglasse, W. | 1 | Micklethwaite, H. | 22 | Watson, G. S. | 47 |
| Dove, C. H. | 15 | Micklethwaite, J. L. | 130 | Watson, H. | 175 |
| Dove, C. W. | 36 | Middlebrough, J. N. | 172 | Watson, H. L. | 74 |
| Downes, T. W. A. | 78 | Middlemiss, G. J. | 136 | Watson, L. | 75, 101 |
| Downes, W. T. | 76 | Middleton, Alexander | 84 | Watson, S. | 157 |
| Draper, H. E. | 159 | Middleton, Arthur | 92 | Waud, S. W. | 175 |
| Draper, J. M. | 154 | Middleton, G. F. | 74 | Weare, J. S. | 38 |
| Dresser, J. H. | 87, 93 | Middleton, L. | 73 | Weare, T. | 34 |
| Drewery, T. | 54 | Middleton, O. | 52 | Weaver, E. H. | 151 |
| Dryburgh, A. | 75 | Middleton, P. | 106 | Webster, — | 73 |
| Dufton, J. | 48 | Middleton, R. | 66 | Webster, B. | 41 |
| Duncan, J. | 42 | Middleton, R. J. | 73 | Webster, H. R. | 147 |
| Dunn, C. S. | 152 | Middleton, T. W. | 134 | Webster, J. | 31 |
| Dunn, G. B. | 150 | Middleton, W. B. | 172 | Webster, J. D. | 29 |
| Dunn, J. | 23 | Middleton, W. J. | 64 | Webster, R. | 31, 39 |
| Dunning, J. | 48 | Middleton, Walter | 84 | Webster, W. L. | 164 |
| Dunsford, H. F. | 160 | Middleton, William | 154 | Webster, William | 23 |
| Dunsford, M. G. | 160 | Midgley, B. | 18 | Webster, William | 158 |
| Dyson, F. | 76 | Midgley, F. W. | 166 | Wedderburn, H. W. | 133 |
| Dyson, G. | 154 | Midgley, G. | 85 | Welch, W. | 49 |
| Dyson, G. W. | 30, 35 | Midgley, H. L. | 163 | Wellbeloved, C. | 70 |
| Dyson, Henry | 38 | Miles, A. B. | 63 | Wells, E. A. | 114 |
| Dyson, Henry | 104 | Miles, A. C. | 149 | Wells, J. B. | 26 |
| Dyson, R. | 38 | Milestone, W. S. | 129 | Wells, T. | 13 |
| Dyson, W. | 125 | Miller, G. D. | 92 | Wells, W. | 15 |
| Eagland, H. F. | 115 | Millington, G. | 63 | Wells, W. W. | 79 |
| Eagland, H. F.* | 177 | Millington, W. | 63 | Welsh, A. H. | 96 |
| Eagland, J. C. | 41 | Mills, J. J. | 153 | Wesley, — | 53 |
| Eagland, W. H. | 42 | Mills, T. | 160 | Wesley, J. S. | 58 |
| Eagland, W. H.* | 177 | Milner, A. | 157 | West, H. C. | 70 |
| Easton, F. | 111 | Milner, A. J. | 95 | West, T. K. | 44 |
| Eastwood, B. | 145 | Milner, I. | 4 | Westcott, W. B. | 155 |
| Eastwood, J. H. | 154 | Milner, J. W. | 24 | Westcott, W. H. | 139 |
| Eastwood, R. | 145 | Milner, James | 4 | Westerman, J. | 6 |
| Eastwood, R. S. | 33 | Milner, James | 6 | Westerman, J. T. C. | 168 |
| Ebbage, G. W. | 159 | Milner, Joseph | 4 | Weston, E. | 83, 93 |
| Eddison, G. M. | 173 | Milner, T. D. | 21 | Weston, E. A. | 84 |
| Eddison, J. P. | 114 | Milner, T. D.* | 176 | Wetherell, F. M. | 157 |
| Eddison, R. | 125 | Mirfin, C. | 60 | Whaley, W. S. | 56 |
| Edmondson, J. A. | 146 | Mirfin, J. G. | 75 | Whalley, — | 70 |
| Edmondson, R. T. | 61 | Mitchell, C. | 31 | Whalley, H. L. | 103, 106 |
| Elam, J. E. | 36 | Mitchell, C. E. | 102 | Whare, J. | 13 |
| Eland, L. | 128 | Mitchell, E. | 43 | Wheatley, J. | 98 |
| Elkington, F. G. | 31 | Mitchell, J. G. | 91 | Wheatley, J. C. | 105 |
| Elkington, G. J, | 31 | Mitchell, J. H. | 107 | Wheelwright, C. E. | 56 |
| Ellershaw, C. | 79 | Mitchell, J. W. | 102 | Wheelwright, H. | 105 |
| Ellershaw, John | 19 | Mitchell, John | 29 | Wheelwright, J. G. | 44 |
| Ellershaw, John | 78 | Mitchell, John | 86 | Wheelwright, W. H. | 56 |
| Ellershaw, R. J. | 16 | Mitchell, W. H. | 26 | Whincup, A. J. | 46 |
| Elliott, J. H. | 63 | Mnsgrave, F. E. | 115 | Whincup, F. | 152 |
| Elliott, R. T. | 64 | Moat, R. | 13 | Whincup, H. | 140 |
| Ellis, E. | 114 | Moberly, G. E. | 72 | Whincup, W. L. | 146 |
| Ellis, G. | 43 | Molesworth, A. | 119 | Whitaker, C. E. | 153 |
| Ellis, H. | 87 | Molesworth, E. | 113 | Whitaker, J. | 53 |
| Ellis, H. W. | 96 | Molesworth, F. H. | 109 | Whitaker, W. | 10 |
| Ellis, J. | 13 | Molesworth, J. H. | 110 | Whitby, N. B. | 59 |
| Ellis, J. S. | 20 | Molesworth, R. | 138 | White, E. | 48 |
| Ellison, J. | 136 | Monkman, M. | 173 | White, F. J. F. | 122 |
| Ellison, J. E. | 76, 89 | Monkman, R. | 167 | White, J. F. | 90 |
| Ellison, S. | 76, 89 | Monkman, T. | 167 | White, L. B. | 163 |
| Ellison, William | 53 | Moody, J. | 27 | White, R. | 76 |
| Ellison, William | 64 | Moody, W. | 27 | White, W. T. | 156 |
| Embleton, D. | 93 | Moore, — | 73 | Whitehead, A. C. | 162 |
| Embleton, J. | 94 | Moore, G. | 127 | Whitehead, A. L. | 138 |
| Empson, C. F. | 61 | Moorey, J. | 50 | Whitehead, J. L. | 155 |
| Emsley, H. E. | 135 | Moorhouse, C. H. | 160 | Whitehead, John | 30 |
| Emsley, R. G. | 125 | Moorhouse, H. | 37 | Whitehead, John | 163 |
| Emsley, W. A. | 117 | Morfit, B. | 82 | Whitehead, Joseph | 35 |
| Emsley, W. P. | 49 | Morgan, D. H. | 102 | Whitehead, W. | 58 |
| Endeacott, J. | 51 | Morgan, E. W. | 166 | Whiteley, C. | 49 |
| England, A. | 85 | Morgan, G. | 102 | Whiteley, C.* | 177 |
| Ephraim, H. | 168 | Morgan, L. | 19 | Whiteley, E. | 130 |
| Evans, N. de L. | 172 | Morgan, Thomas | 5 | Whiteley, H. S. | 164 |
| Everitt, W. | 141 | Morgan, Thomas | 101 | Whiteley, J. | 5 |
| Excelley, N. R. | 38 | Morland, F. | 12 | Whiteley, J. T. | 76, 83 |
| Exley, A. | 156 | Morley, A. C. | 142 | Whiteley, J. W. | 85, 101 |
| Exley, J. | 111 | Morley, H. | 74 | Whiteley, M. | 102 |
| Exley, T. B. | 138 | Morley, H. O. | 84 | Whiteley, T. T. | 106 |
| Facer, J. A. | 164 | Morley, R. W. | 57 | Whitfield, A. S. | 66 |
| Fairbank, F. | 158 | Morley, W. H. | 59 | Whitfield, J. W. | 66 |
| Fairfoot, R. | 172 | Morley, W. J. | 84 | Whitley, B. | 73 |
| Falkner, H. | 113 | Morrel, C. | 138 | Whitley, J. B. | 75 |
| Falkner, W. | 113 | Morris, T. D. | 84 | Whitley, J. J. | 65 |
| Falshaw, P. S. | 154 | Morris, Thomas | 39 | Whitley, T. | 137 |
| Falshaw, R. | 155 | Morris, Thomas | 50 | Whitmell, C. T. | 82 |
| Farmery, S. | 13 | Morritt, W. | 94 | Whitmell, C. T.* | 177 |
| Farncomb, A. | 29 | Mortimer, B. C. | 67 | Whitwam, J. | 127 |
| Farncomb, T. | 29 | Mortimer, E. A. | 165 | Whitworth, E. | 65 |
| Farnill, J. E. | 84 | Mortimer, G. R. | 174 | Whitworth, J. | 13 |
| Farr, J. R. | 164 | Mortimer, L. G. | 165 | Whitworth, W. | 58, 65 |
| Farrar, E. | 13 | Mortimer, V. E. | 174 | Wick, G. H. | 127 |
| Farrar, J. | 36 | Morton, C. | 88 | Wigglesworth, T. A. | 142 |
| Farrar, J. W. | 54 | Morton, F. | 52 | Wigin, J. T. | 122 |
| Farrar, T. | 51 | Morton, T. | 101 | Wigin, R. S. | 110 |
| Farrer, E. B. | 174 | Mortson, J. | 24 | Wikeley, C. E. | 47 |
| Fatterini, L. | 36 | Moss, C. J. | 53 | Wikeley, T. | 35 |
| Faulkner, I. | 12 | Moss, W. | 136 | Wilby, M. B. | 144 |
| Fawcett, E. R. | 66 | Motley, L. | 131 | Wilcock, H. | 73 |
| Fawcett, H. | 52 | Mould, F. E. | 151 | Wilcock, S. | 73 |
| Fawcett, J. D. | 156 | Moxon, S. | 13 | Wild, F. P. | 121 |
| Fawcett, J. E. | 52 | M'Pherson, H. | 136 | Wild, H. W. | 121 |
| Fawcett, J. J. | 59 | Muir, G. G. | 67 | Wild, T. | 118 |
| Fawcett, J. M. | 40 | Muir, H. G. | 130 | Wild, T. C. | 124 |
| Fawcett, James | 4 | Muir. J. | 117 | Wiley, H. A. | 174 |
| Fawcett, John | 6 | Munro, H. | 174 | Wiley, P. J. D. | 163 |
| Fawcett, Joseph | 50 | Munro, P. | 174 | Wilford, B. | 21 |
| Fawcett, R. | 5 | Munrowd, A. | 95 | Wilkinson, — | 93 |
| Fawcett, W. M. | 50 | Murdoch, C. | 148 | Wilkinson, A. | 38, 53 |
| Fawell, G. R. | 21 | Murphy, B. | 21 | Wilkinson, C. H. | 96 |
| Fawkes, F. | 3 | Murphy, E. | 21 | Wilkinson, C. H. D. | 113 |
| Fearnley, E. | 116 | Murphy, E. H. | 16 | Wilkinson, D. | 172 |
| Fearnley, F. | 11 | Murphy, W. S. | 134 | Wilkinson, Edward | 34 |
| Fearnley, G. B. | 80 | Murray, J. B. | 81 | Wilkinson, Edward | 118 |
| Fearnley, T. | 66 | Muscroft, E. S. | 168 | Wilkinson, H. H. | 75 |
| Fearnside, E. L. | 134 | Musgrave, A. | 126 | Wilkinson, J. F. | 113 |
| Fearnside, E. L.* | 177 | Musgrave, F. | 48 | Wilkinson, J. H. | 113 |
| Fearnside, H. F. | 163 | Musgrave, P. | 134 | Wilkinson, J. P. | 10 |
| Fearnside, W. H. | 125 | Musgrave, T. W. | 110 | Wilkinson, J. R. | 21, 24 |
| Fearon, J. W. | 81 | Musgrave, W. P. | 23 | Wilkinson, J. R. | 72 |
| Fell, J. G. | 42 | Myers, E. | 34 | Wilkinson, J. W. | 165 |
| Fenton, C. | 69 | Myers, G. F. | 147 | Wilkinson, John | 25 |
| Fenton, G. | 78 | Myers, J. | 34 | Wilkinson, John | 46 |
| Fenton, G. E. | 59 | Myers, R. K. | 74 | Wilkinson, Joseph | 13 |
| Fenton, H. | 108 | Naylor, B. | 136 | Wilkinson, Josiah | 39 |
| Fenton, W. | 98 | Naylor, C. T. | 82 | Wilkinson, M. | 10 |
| Fenwick, C. R. | 90 | Naylor, H. | 37 | Wilkinson, R. | 172 |
| Fenwick, C. R.* | 177 | Naylor, J. W. | 38 | Wilkinson, R. H. S. | 163 |
| Ferguson, A. F. | 122 | Naylor, W. | 45 | Wilkinson, S. | 27 |
| Ferguson, F. W. | 151 | Naylor, W. A. | 105 | Wilkinson, S. H. | 137 |
| Ferguson, R. B. | 121 | Naylor, W. R. | 147 | Wilkinson, William | 10 |
| Fernie, R. W. | 108 | Naylor, W. S. | 164 | Wilkinson, William | 16 |
| Ferns, P. H. | 110 | Neale, W. | 60 | Wilkinson, William | 113 |
| Ferns, W. F. | 109 | Needham, E. J. | 174 | Wilks, F. | 102 |
| Ferns, W. P. | 108 | Neill, J. N. | 167 | Wilks, F. | 106 |
| Ferro, W. K. | 153 | Nell, G. E. | 39 | Wilks, W. H. | 15 |
| Fieldhouse, J. | 36 | Nelson, A. C. | 80 | Willans, J. | 11 |
| Fillingham, T. E. | 84 | Nelson, C. | 12 | Willans, J. R. | 105 |
| Filliter, E. R. | 120 | Nelson, C. H. | 76 | Willans, J. T. | 107 |
| Findlay, J. A. | 165 | Nelson, C. J. | 83 | Willans, P. R. | 39 |
| Firby, Alfred | 114 | Nelson, C. T. | 60 | Willans, P. W. | 91 |
| Firby, Arthur | 72 | Nelson, F. W. | 50 | Willey, A. E. | 86, 101 |
| Firby, C. S. | 82 | Nelson, G. | 31 | Willey, A. W. | 147 |
| Firby, E. | 77 | Nelson, G. A. | 61 | Willey, F. | 154 |
| Firth, B. | 46 | Nelson, H. | 104 | Williams, F. H. | 110 |
| Firth, C. F. | 102 | Nelson, J. A. S. | 74 | Williams, J. | 20 |
| Firth, D. A. | 170 | Nelson, J. W. | 75 | Williams, J. N. S. | 97 |
| Firth, F. W. | 112 | Nelson, James | 19 | Williams, P. | 111 |
| Firth, G. G. | 171 | Nelson, James | 57 | Williamson, A. P. | 74, 80 |
| Firth, H. | 148 | Nelson, W. H. | 17 | Williamson, A. P. | 161 |
| Firth, H. E. | 138 | Nettleton, — | 73 | Williamson, A. P.* | 178 |
| Firth, H. G. | 46 | Nettleton, W. | 67 | Williamson, Albert | 65 |
| Firth, J. | 88 | Neville, C. H. | 18 | Williamson, Alfred | 132 |
| Firth, J. E. | 102 | Neville, G. | 18 | Williamson, Alfred | 159 |
| Firth, J. G. | 112 | Nevin, J. | 95 | Williamson, Arthur | 66 |
| Firth, J. W. | 112 | Newbound, E. | 146 | Williamson, C. G. | 68 |
| Firth, T. W. | 112 | Newbound, H. | 146 | Williamson, E. | 171 |
| Firth, W. | 124 | Newbound, T. | 145 | Williamson, H. S. | 161 |
| Fitch, A. | 18 | Newell, E. | 55 | Williamson, N. | 174 |
| Fitch, W. | 21 | Newell, J. | 34 | Willis, B. | 15 |
| Fitton, J. A. | 97 | Newman, J. | 142 | Willock, E. P. | 25 |
| Fitzjohn, T. L. T. | 81 | Newsham, G. H. | 164 | Willock, W. W. | 23 |
| Fleming, A. E. | 120 | Newsom, A. H. S. | 37 | Wilson, A. | 63 |
| Fleming, E. | 151 | Newstead, C. B.* | 163 | Wilson, A. F. | 139 |
| Fleming, P. C. | 134 | Newstead, F. J. | 141 | Wilson, A. W. | 122 |
| Fletcher, C. G. | 46 | Newstead, H. L.* | 163 | Wilson, B. | 3 |
| Fletcher, F. | 138 | Newstead, H. M. | 165 | Wilson, B. E. | 144 |
| Fletcher, G. | 103 | Newstead, H. S. | 149 | Wilson, C. H. | 109 |
| Fletcher, H. | 138 | Newton, F. J. | 39 | Wilson, Christopher | 3 |
| Fletcher, J. | 56 | Newton, G. | 75 | Wilson, Clapham | 46 |
| Fletcher, J. W. | 153 | Newton, G. H. | 140 | Wilson, E. T. | 65 |
| Fletcher, T. | 72, 74 | Newton, W. | 54 | Wilson, Edmund | 67 |
| Fletcher, W. | 76 | Nicholls, C. | 62 | Wilson, Edward | 53 |
| Flint, H. | 145 | Nichols, F. J. | 125 | Wilson, F. H. | 133 |
| Flockton, W. | 68 | Nichols, G. W. | 63 | Wilson, Frank | 112 |
| Flockton, W. H. | 128 | Nichols, H. J. | 105 | Wilson, Frederic | 38 |
| Flood, J. P. | 79 | Nichols, J. H. | 116 | Wilson, Frederick | 131 |
| Flood, J. R. | 10 | Nichols, T. H. | 117 | Wilson, G. H. | 122 |
| Flood, Samuel | 27 | Nichols, T. W. | 96 | Wilson, G. M. | 109 |
| Flood, Samuel | 66, 68 | Nichols, W. | 24 | Wilson, George | 9 |
| Flood, T. H. | 66, 68 | Nicholson, B. | 92 | Wilson, George | 15 |
| Flood, T. H. | 79 | Nicholson, C. L. | 80 | Wilson, George | 15 |
| Flower, R. E. W. | 172 | Nicholson, Joseph | 26 | Wilson, Gladstone | 146 |
| Flower, W. B. | 30 | Nicholson, Joseph | 58 | Wilson, Harcourt | 120 |
| Foden, A. E. | 36 | Nicholson, R. | 39 | Wilson, Henry | 87 |
| Forster, A. E. | 136 | Nicholson, R. F. | 48 | Wilson, Herbert | 59 |
| Forster, F. A. | 105 | Nicholson, T. M. | 138 | Wilson, J. B. | 75 |
| Forster, Francis | 15 | Nicholson, T. S. | 166 | Wilson, J. G. | 164 |
| Forster, Francis* | 176 | Nicholson, W. | 131 | Wilson, J. T. | 127 |
| Foster, Anthony | 81 | Nicholson, W. G. | 77 | Wilson, John | 38 |
| Foster, Arthur | 110 | Nicoll, S. W. | 6 | Wilson, John | 72 |
| Foster, E. | 62 | Nicolson, A. | 155 | Wilson, John | 131 |
| Foster, J. W. | 123 | Nield, C. M. | 124 | Wilson, Joseph | 6 |
| Foster, James | 56 | Nield, E. E. | 124 | Wilson, Joseph | 7 |
| Foster, James | 63 | Nield, J. M. | 88 | Wilson, Joseph | 118 |
| Foster, James | 75 | Nield, S. | 88 | Wilson, Junius | 11 |
| Foster, John | 18 | Nield, Samuel | 129 | Wilson, K. | 70 |
| Foster, Joseph | 17 | Nixon, G. C. | 83 | Wilson, R. B. | 127 |
| Foster, P. | 62 | Nixon, H. F. | 108 | Wilson, R. E. | 78 |
| Foster, R. | 9 | Noakes, M. | 40 | Wilson, R. L. | 94 |
| Foster, Thomas | 85 | Norfolk, C. H. | 42 | Wilson, Reginald | 165 |
| Foster, Thomas | 89 | Norfolk, I. | 60 | Wilson, Richard | 11 |
| Foster, W. H. | 76 | Norman, W. | 54 | Wilson, Richard | 94 |
| Foster, William | 8 | Norris, T. | 15 | Wilson, Robert | 42 |
| Foster, William | 14 | North, — | 70 | Wilson, S. | 132 |
| Foster, William | 14 | North, A. | 91 | Wilson, T. | 74 |
| Foster, William | 104 | North, A. E. | 165 | Wilson, T. B. | 122 |
| Foster, William* | 176 | North, T. K. | 158 | Wilson, T. T. | 65 |
| Fotherby, C. | 10 | North, Walter | 109 | Wilson, William | 38 |
| Fourness, J. W. | 56 | North, William | 152 | Wilson, William | 109 |
| Fowell, A. N. | 112 | Nowell, J. A. | 125 | Wilson, William | 131 |
| Fowler, C. | 38 | Nunneley, A. G. | 81 | Wimble, H. | 80 |
| Fowler, C. G. | 112 | Nunneley, J. A. | 68 | Windle, J. | 131 |
| Fowler, C. J. | 111 | Nunneley, T. | 81 | Windresse, T. | 2 |
| Fowler, H. | 38 | Nunns, R. A. L. | 54 | Winter, R. H. | 146 |
| Fox, C. E. | 117 | Nunns, T. J. | 50 | Winter, T. G. | 120 |
| Fox, C. R. D. | 160 | Nussey, J. | 20 | Winterbottom, C. H. | 118 |
| Fox, G. H. | 160 | Nussey, O. | 16 | Wise, B. R. | 105 |
| Fox, G. W. | 113 | Nussey, T. | 20 | Wise, E. T. | 105 |
| Fox, H. C. J. | 152 | Nutter, E. | 37 | Wiseman, A. R. | 140 |
| Fox, Joe | 141 | Nutter, H. | 156 | Wiseman, G. | 61 |
| Fox, John | 65 | Oates, J. | 43 | Wiseman, R. | 61 |
| Fox, L. M. | 158 | Oates, J. W. | 50 | Withiell, J. D. | 74 |
| Fox, R. | 28 | Oddy, B. | 66 | Withiell, R. C. | 70 |
| Fox, W. P. | 56 | Oddy, J. | 70 | Witting, C. A. | 174 |
| Foxcroft, T. | 24 | Oddy, James | 103 | Witts, W. | 61 |
| Fozard, Charles | 13 | Oddy, S. | 103 | Wolfe, A. R. | 135 |
| Fozard, Charles | 138 | Oddy, T. W. | 88 | Wolff, F. E. C. | 171 |
| France, — | 75 | Ogden, C. B. | 95 | Wollaston, C. R. | 23 |
| France, A. | 87 | Ogden, G. | 16 | Wollaston, W. J. | 24 |
| France, J. W. | 65 | Ogden, J. O. | 51 | Wood, A. | 73 |
| France, J. W. | 69 | Ogden, J. R. | 13 | Wood, A. E. B. | 139 |
| France, J. W. | 73 | Ogden, T. J. | 116 | Wood, A. H. | 65 |
| France, W. H. | 73 | Oglesby, F. | 129 | Wood, Alfred | 61 |
| Francis, J. L. | 162 | Oglesby, P. | 163 | Wood, Alfred | 76 |
| Francis, M. A. | 174 | Oglesby, R. P. | 118 | Wood, Bayston | 76, 85 |
| Francis, N. A. | 108 | Oglesby, W. | 129 | Wood, Benjamin | 22 |
| Francis, P. C. C. | 91 | Oldroyd, A. E. | 122 | Wood, Bower | 42 |
| Frankland, James | 26 | Oliver, E. S. | 153 | Wood, F. | 136 |
| Frankland, John | 25 | Oliver, W. | 168 | Wood, George | 11 |
| Frankland, M. | 18 | O'Neil, J. | 16 | Wood, George | 74 |
| Fraser, F. W. | 103, 107 | Osborne, A. J. | 89 | Wood, H. P. | 132 |
| Fraser, H. J. | 81 | Ottley, T. C. | 124 | Wood, Harry | 145 |
| Fraser, J. C. | 109 | Ouston, G. R. | 75, 89 | Wood, Horatio | 66 |
| Fraser, James | 108 | Ouston, P. | 124 | Wood, J. A. | 32 |
| Fraser, James | 164 | Owen, A. W. C. | 158 | Wood, J. S. | 38 |
| Fraser, James* | 177 | Owen, F. E. | 167 | Wood, J. S. | 44 |
| Fraser, John | 104 | Oxley, A. B. | 74 | Wood, J. S. | 76 |
| Freeman, C. J. | 26 | Padgett, J. | 95 | Wood, J. W. | 65 |
| Freeman, J. E. | 74 | Pagdin, J. | 64 | Wood, J. W. | 103 |
| Freeman, Walter | 104 | Page, P. H. | 69 | Wood, John | 41 |
| Freeman, William | 2 | Page, R. L. | 69 | Wood, Joseph | 42 |
| French, T. | 45 | Paige, J. E. | 69 | Wood, Joshua, | 46, 56 |
| Frobisher, G. | 53 | Paley, G. | 22 | Wood, M. B. | 29 |
| Frobisher, J. T. | 94 | Paley, R. | 13 | Wood, M. B.* | 176 |
| Frobisher, W. M. | 96 | Palliser, O. | 134 | Wood, P. | 21 |
| Frost, S. S. | 64 | Palmer, A. G. | 171 | Wood, Richard | 47 |
| Fryer, F. | 11 | Palmer, C. | 169 | Wood, Richard | 109 |
| Fryer, S. W. | 63 | Palmer, E. | 166 | Wood, Robert | 56 |
| Fuller, W. J. | 87, 101 | Palmer, J. P. | 126 | Wood, S. H. | 169 |
| Fullilove, J. H. | 103 | Palmer, W. | 126 | Wood, Samuel | 34 |
| Furbank. T. | 7 | Parish, J. | 50 | Wood, Sydney | 158 |
| Furniss, F. | 49 | Parker, A. W. | 148 | Wood, Thomas | 34 |
| Furniss, F. W. | 61 | Parker, Edward | 13 | Wood, Thomas | 47 |
| Fynn, — | 73 | Parker, Edward | 28 | Wood, W. A. | 35 |
| Fynn, R. | 76 | Parker, Edward | 53 | Wood, W. H. | 120 |
| Gaines, F. W. | 153 | Parker, G. A. | 128 | Wood, W. N. | 85, 101 |
| Gaines, H. | 136 | Parker, P. B. | 148 | Wood, W. W. | 47 |
| Gaines, W. R. | 53 | Parker, R. J. | 28 | Woodcock, E. R. | 66 |
| Gale, E. | 168 | Parker, Thomas | 17 | Woodcock, J. H. | 66 |
| Gale, W. | 14 | Parker, Tom | 65 | Woodcock, W. | 107 |
| Galland, R. | 34 | Parkin, A. | 65 | Woodhead, A. C. | 120 |
| Galland, T. S. | 34 | Parkin, E. | 73 | Woodhead, C. | 159 |
| Gallen, A. | 35 | Parkin, John | 140 | Woodhead, C. C. | 120 |
| Gallon, H. | 45 | Parkin, Joseph | 140 | Woodhead, C. H. | 120 |
| Galloway, J. | 59 | Parkins, T. | 48 | Woodhead, G. H. | 153 |
| Gamble, Richard | 52 | Parkinson, J. B. | 45 | Woodhead, N. | 159 |
| Gamble, Robert | 29 | Parkinson, R. | 25 | Woodhead, W. | 76, 101 |
| Gane, A. | 138 | Parkinson, T. | 19 | Woodhead, W. F. | 120 |
| Gane, E. | 138 | Parkinson, W. | 20 | Woodthorpe, H. | 160 |
| Garbutt, J. H. | 31 | Parnaby, J. | 75, 83 | Woodthorpe, H. B. | 136 |
| Gardiner, A. H, | 141 | Parson, E. | 77 | Woodthorpe, W. | 119 |
| Gardiner, C. C. | 141 | Parsons, A. | 142 | Wooler, F. W. | 135 |
| Garland, John | 41 | Partridge, F. | 123 | Wooler, W. A. | 168 |
| Garland, John | 91 | Partridge, J. A. | 128 | Wooley, R. | 18 |
| Garland, R. W. | 51 | Pashley, J. G. | 80 | Wooley, W. W. | 18, 24 |
| Garland, T. B. | 51 | Passavant, W. | 86, 100 | Woolley, C. | 41 |
| Garland, T. S. | 133 | Passavant, W. G. | 92 | Woolley, J. B. | 118 |
| Garlick, E. | 106 | Pate, I. | 75 | Wordsworth, G. H. | 85, 101 |
| Garlick, J. | 45, 62 | Paton, J. W. | 98 | Wordsworth, T. | 49 |
| Garlick, W. | 45 | Patriarche, P. H. | 96 | Wormald, C. E. | 128 |
| Garnett, W. A. | 150 | Patterson, W. | 48 | Wormald, E. C. | 14 |
| Garrs, T. | 48 | Pattison, H. | 27 | Wormald, W. | 28 |
| Garside, J. | 40 | Pattison, J. | 19 | Worrall, J. C. | 15 |
| Garside, R. | 13 | Paul, J. A. | 149 | Wray, — | 73 |
| Gascoigne, T. | 53 | Paul, T. W. | 147 | Wray, George | 9 |
| Gascoigne, W. H. | 19 | Paulett, T. L. | 130 | Wray, George | 69 |
| Gatehouse, A. | 144 | Paxton, — | 156 | Wray, J. D. | 59 |
| Gaudin, R. | 139 | Paxton, J. | 150 | Wray, R. F. | 19 |
| Gaunt, J. W. | 170 | Paxton, J. M. | 140 | Wray, R. M. | 35 |
| Gaunt, W. | 104 | Paylor, J. E. | 75 | Wray, T. | 65 |
| Gibbon, E. A. | 106 | Payne, E. S. | 82 | Wray, W. | 51 |
| Gibbs, G. W. | 103 | Payne, R. G. S. | 64 | Wrigglesworth, J. E. | 62 |
| Gibbs, J. W. | 103 | Peacock, A. | 153 | Wrigglesworth, J. W. | 157 |
| Gibson, C. | 56 | Peacock, C. | 23 | Wrigglesworth, W. H. | 44 |
| Gibson, C. P. | 116 | Peacock, G. H. | 123 | Wright, C. H. | 168 |
| Gibson, C. Y. | 94 | Peacock, H. | 153 | Wright, C. S. | 25 |
| Gibson, G. | 89 | Peacock, M. H. | 106 | Wright, D. | 139 |
| Gibson, G. A. | 110 | Peacock, T. P. | 114 | Wright, E. | 59 |
| Gibson, H. | 161 | Peake, E. J. | 147 | Wright, George | 21 |
| Gibson, J. C. | 89 | Peake, H. O. | 173 | Wright, George | 116 |
| Gibson, John | 82 | Pearce, A. T. | 132 | Wright, George | 157 |
| Gibson, John | 115 | Pearce, F. H. | 47 | Wright, H. | 70 |
| Gilbert, — | 70 | Pearson, A. B. | 107 | Wright, H. W. | 151 |
| Gilbert, Francis | 67 | Pearson, A. E. | 124 | Wright, J. | 74 |
| Gilbert, Frederick | 36 | Pearson, A. W. | 143 | Wright, M. | 77 |
| Giles, T. | 14 | Pearson, E. F. S. | 134 | Wright, N. | 59 |
| Gill, A. | 48 | Pearson, H. | 83 | Wright, P. E. | 46 |
| Gill, H. | 174 | Pearson, J. H. | 86, 100 | Wright, Thomas | 75 |
| Gill, J. | 50 | Pearson, James | 150 | Wright, Tom | 74 |
| Gill, J. R. | 59 | Pearson, John | 21 | Wright, William | 14 |
| Gill, W. | 73, 81 | Pearson, O. | 63 | Wright, William | 117 |
| Gilpin, E. | 29 | Pearson, T. A. O. | 108 | Wrightson, W. | 97 |
| Gilpin. F. A. | 144 | Pearson, T. R. | 115 | Wurtzburg, E. A. | 83 |
| Ginn, A. | 89 | Pearson, William | 63 | Wurtzburg, J. A. | 160 |
| Gisburn, A. E. | 157 | Pearson, William | 95 | Wurtzburg, J. H. | 52 |
| Gisburn, J. W. | 143 | Peel, S. | 37 | Wylde, G. F. | 120 |
| Gittens, R. | 45 | Pegler, O. | 90 | Wylde, J. A. | 115 |
| Gleadow, J. | 15 | Pegler, T. | 90 | Wylde, R. C. | 124 |
| Gledhill, J | 65 | Pegler, W. V. | 165 | Wylde, W. W. | 115 |
| Gledhill, W. | 42 | Pemberton, M. | 10 | Wyles, W. | 92 |
| Glew, M. | 67 | Peniston, C. | 102 | Wynn, F. | 44 |
| Glover, A. F. | 172 | Peniston, J. R. | 74 | Yates, E. | 60 |
| Glover, D, R. | 78 | Peniston, R. | 102 | Yates, G. | 27 |
| Glover, F. | 68 | Peniston, T. S. | 57 | Yates, J. | 15 |
| Glover, William | 36 | Pennington, J. T. | 115 | Yates, W. | 76, 101 |
| Glover, William | 62 | Penniston, G. | 45 | Yates, W. B. | 76, 101 |
| Glover, William | 129 | Penniston, J. | 52 | Yeadon, A. E. N. | 164 |
| Goadie, R. | 40 | Pepper, J. E. | 70 | Yeadon, S. N. | 167 |
| Godfrey, C. W. | 71 | Perkin, C. A. | 69 | Yeardley, T. | 147 |
| Godfrey, N. G. | 71 | Perkin, J. | 16 | Yewdall, E. | 62 |
| Gomersall, A. | 159 | Perkin, J. A. | 60 | York, T. | 68 |
| Gomersall, E. | 163 | Perkin, W. J. | 60 | Young, — | 70 |
| Good, A. A. | 127 | Perkins, F. | 92 | Young, A. A. | 82 |
| Good, F. H. | 127 | Perkins, H. | 73 | Young, A. V. | 47 |
| Good, J. D. | 83 | Perkins, J. T. | 68 | Young, C. E. | 32 |
| Good, T. H. | 83 | Perring, A. R. | 41 | Young, C. H. | 129 |
| Goodall, F. F. | 103 | Perring, C. A. | 41 | Young, F. J. | 84 |
| Goodall, S. | 18 | Perring, F. G. | 41 | Young, H. H. | 96 |
| Goodall, W. | 140 | Perring, H. S. | 34, 40 | Young, O. G. | 82 |
| Goodchild, W. G. | 30 | Perring, R. M. | 34 | Young, W. C. | 118 |
| Goodson, A. | 131 | Perry, R. | 58 | Young, W. J. | 19 |
| Goodson, H. | 131 | Petty, W. | 16 | Zossenheim, C. E. | 156 |
| Goodson, R. J. | 118 | Petty, W. H. | 14 | Zossenheim, L. L. | 154 |
| Gordon, G. W. | 121 | Philips, P. | 24 | | |
| | | | | | |
Back to
The Register of the Leeds Grammar School -
Main Page